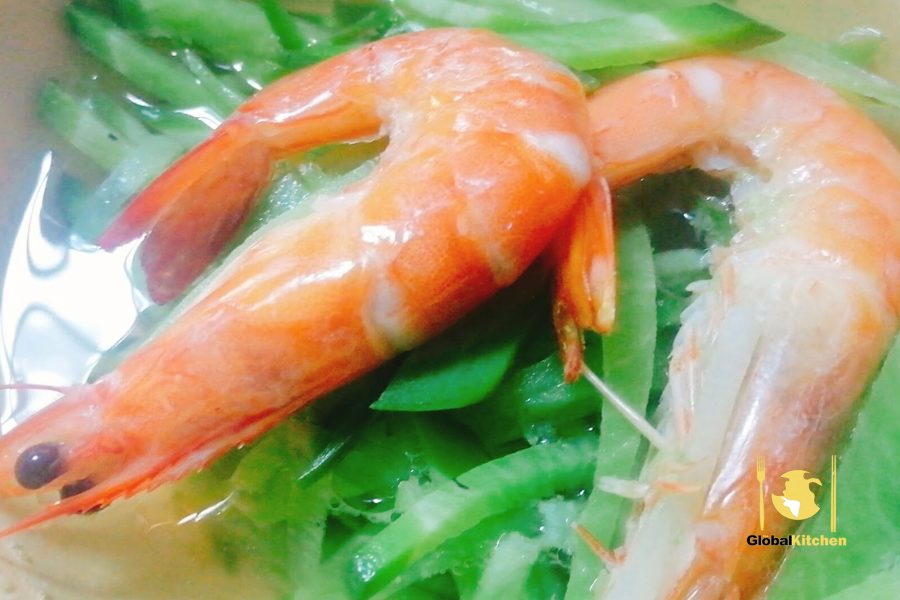 Start to finish: 15 minutesServings: 3Cuisine: ChineseDifficulty level: EasySpice level: Low
LuoBo Xia is the Chinese name for this dish. "LuoBo" means the green radish and "Xia" means shrimp. It belongs to the famous Lu cuisine from China. This is a main course that often appears on the dinner table at my house. My grandma likes to cook this for me, so this is definitely my favorite nana recipe! When I was studying in a city far from my family, I used to cook this dish when I was homesick. The familiar taste made me not feel lonely anymore. Maybe that's why we love home cooked food, right? This dish is very easy to cook at home, and if you like seafood, you don't want to miss this one!
Ingredients
1 green radish
6 shrimps
1/2 teaspoon kosher salt (You can adjust the salt content according to your preference.)
The ingredients needed to make LuoBo Xia. Photo: Xiaoxi Ma
Procedure
Wash the green radish. Cut both ends of it and then peel and slice it.
Cut the green radish. Photo: Xiaoxi Ma
In a small pot, boil some water and then bring it to medium heat. Add the shrimp. Wait for 2 minutes until they are cooked.
In a medium pot, add the green radish slices. Pour water until the water level is just over the slices. Cover the pot and cook the soup over medium heat for 7 to 9 minutes. (You can taste the radish to check if they are cooked.)
Add the green radish slices and pour water. Photo: Xiaoxi Ma
In the same pot, add the shrimps and kosher salt. Wait for 1 to 2 minutes. Serve immediately.
Add the shrimps. Photo: Xiaoxi Ma
Add the kosher salt. Photo: Xiaoxi Ma
Tips
If you don't like the spice of the green radish, then after slicing it, add salt and wait for 10 minutes. Rinse the slices. This will help decrease the spice.