Work permits for int'l students are under threat, here's why it's important
Chinese native Layuan Li started working this month as a research assistant in Rice University's School of Architecture in Texas. A recent master's degree recipient from the school, Li is authorized to work in the U.S. for a period of time while maintaining his student visa status.
"I like my job," he says about his current project on affordable housing in Houston, which he says inspires him a lot.
It is thanks to a post-graduation work permit, known as OPT (Optional Practical Training) that Li can legally have a job in the U.S. It authorizes international students to work in the country for one to three years in their areas of study after graduation. It is valuable training for students, which Northeastern University's Office of Global Services says "helps them apply their classroom learning to the real-world."
But this popular program is under threat. A story in the Wall Street Journal says the Trump administration could impose restrictions. The WSJ's report came after Republican Senators wrote a letter to the president, stating "there is certainly no reason to allow foreign students to stay for three additional years just to take jobs that would otherwise go to unemployed Americans."
The number of participants in OPT has increased rapidly in recent years, and some 223,085 international students participated in OPT in the 2018-19 academic year, according to the Institute of International Education.
Li is satisfied with his job and will continue at least until his OPT expires in three years. However, he hasn't made a decision about pursuing his profession in the U.S. afterwards.
He says he still needs to "figure out so many things" as he takes a rather calm view on his future. "I will try to play it by ear as things are changing dramatically fast these days," he says.
OPT is a bridge from school to the real world
The OPT program has opened the doors for hundreds of thousands of international students including Li whose plans for the future remain fluid. Michael Dunn, an immigration attorney based in New York City, says "without OPT, many academic students might struggle to find work in the U.S."
Many OPT participants prepare for a career in the U.S. during this time, Dunn says. For instance, they apply for an H-1B, an employment visa program for skilled foreign workers. For employers, it is a costly process as they need to spend fees and pay "the prevailing wage" for their employees.
"Many employers may be unwilling to do this for candidates they do not know well. OPT allows employers to familiarize themselves with a candidate," Dunn says.
However, there have been advocates and law experts who have sought to end the OPT program. An anti-immigration organization, Federation for American Immigration Reform (FAIR) sent a newsletter in June that said OPT "undermines U.S. workers and that it belies the whole purpose of the student visa program, under which foreign nationals are supposed to study here and then return home."
A former official at U.S. Immigration and Customs Enforcement's (ICE), Dan Cadman wrote in a blog earlier this month that there is no legislative mandate for the program. "OPT is not only not in the national interest, but is a clear and present danger to our national security and economic well-being," he wrote.
That said, another immigration attorney, Chicago-based Fiona McEntee, challenges these notions, saying, "there is a host of economic data to support retaining this program."
"OPT really provides an opportunity for foreign students to work in their chosen field." McEntee speaks from her personal experience: She is an Irish immigrant and used to be an OPT participant.
McEntee first moved to the U.S. in 2002 as an international exchange student at a college in Chicago. She was promptly attracted by America's diversity and its lifestyle. "I fell in love with the city of Chicago almost immediately. The people are so friendly and welcoming," she recollects.
"It was fantastic to be surrounded by people from all over the world!"
After her exchange program, McEntee came back to Chicago to study at another law school, where she received her doctoral degree. She then participated in OPT and worked at an immigration firm, which she says "was a pivotal part of my career." Now, a naturalized American citizen, McEntee runs her own law firm and employs a team of ten.
Looking back, her overall experience moving to the U.S. was positive. "I loved the idea that with hard work and determination, you could really create your own path, even if you came here at 20 years old, knowing no-one!" she says.
As a passionate immigration advocate and the chair of the media advocacy committee at American Immigration Lawyers Association, McEntee emphasizes there are so many reasons to retain the OPT program, from positive financial impacts to cultural interaction, as she outlined in her recent OpEd in USA Today. "Suspending the OPT program would be a grave mistake, one that the United States cannot afford to make," she wrote.
"I've seen first-hand the amazing contributions foreign students can make to the U.S.," she tells Global Observer.
Another country is always an option
Specifically, both attorneys say the ability to get an OPT is a factor when students decide to come to the U.S. With this in mind, Dunn says "restrictions on OPT for such students seems patently unjust to me." Moreover, if the administration places restrictions on OPT, he says "many international students will go elsewhere," such as the U.K., Australia, and Canada.
Another international recent graduate from a U.S. university, Hyoyeun Jun, would have looked to Canada or Australia instead, if she had known that there would have been restrictions on OPT. "I have friends who got jobs in Australia, and they are very satisfied with their stability for their immigration status," she says.
Jun, from Daegu city, South Korea, received her Ph.D. degree in mass communication from the University of Georgia this spring. She is now an OPT participant as an assistant professor at Salve Regina University in Rhode Island. She applied for OPT in April and got approved in June.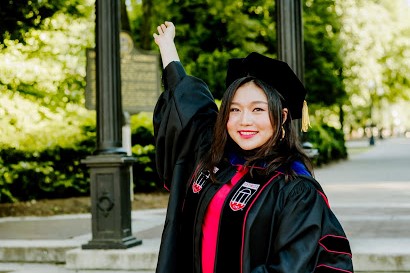 "OPT surely gives international students more freedom and comfort to extend our legal status with an F-1 visa," she says.
Jun's first American life started in Wyoming during her undergraduate exchange program, where she "enjoyed living and studying in English." She says American universities have richer academic resources, which is one of the motives for her to continue her academia in the U.S.
"Now is not the time to give up on the American Dream"
Jun may seem rather exceptional as she got her H-1B visa approved this year. While she has a solid plan to continue her job with an H-1B after her OPT expires, she still expresses her concerns about her future after the administration's continuous campaigns to limit the amount of immigrants.
"This year would be really hard for international students," Jun says, but at the same time, she believes that "if we work hard for our specialties, there will be positions waiting for us."
McEntee also holds hope for the international students' community. As the author of "Our American Dream," which intends to explain the importance of American diversity and welcoming atmosphere, she advises foreign students "Now is not the time to give up on the American Dream," she says.
However, "the idea of the American Dream has likely never been more fragile," but she stresses that it's "worth fighting for."
"There are so many people here — like me and my 15,000 immigration lawyer colleagues — to support them and advocate for their chance to create their very own American Dream."