[Recipe] Creamy Tortellini with Turkey: A twist to the traditional Italian pasta
This recipe is part of our new culinary series, The Global Kitchen, which features recipes from all over the world, provided by our own international student reporters.
Start to finish: 30 minutes
Servings: 4
Cuisine: Italian
Difficulty level: Easy
Spice level: Low
As an Italo-Venezuelan, I am always inventing and reinventing dishes that use ingredients from the regions I come from combined with others that might not be traditional, but still go well together without compromising the flavor. These ingredient combinations can even make the dish lighter and healthier. This is a recipe of my own making that uses ingredients from Italian cuisine, like zucchini and tortellini, and combines them with ground turkey (instead of the traditional Italian sausage) with light cream to keep the calories in check.
Ingredients
⅓ cup olive oil
1 clove garlic, minced
2 green onions, chopped
1 pound ground turkey
Salt and ground black pepper
Red chili flakes (optional)
1 medium zucchini, sliced
2 cups light cream
20 ounces tortellini
Parmesan cheese, grated
Procedure
In a saucepan over medium heat, add the olive oil and sauté the garlic and green onions for 30 seconds to 1 minute, or until you can smell the strong aroma of the garlic. Do not let it burn.
Raise the heat to high and add the ground turkey and season with salt, ground black pepper and red chili flakes (optional). Cook until the liquid has evaporated and the turkey starts to brown.
Add the zucchini and cook for 5 minutes, or until the zucchini starts to wilt.
Pour the cream and stir. Simmer the pan over low heat and cover it for 10 minutes, or until the cream starts to thicken slightly. Set aside.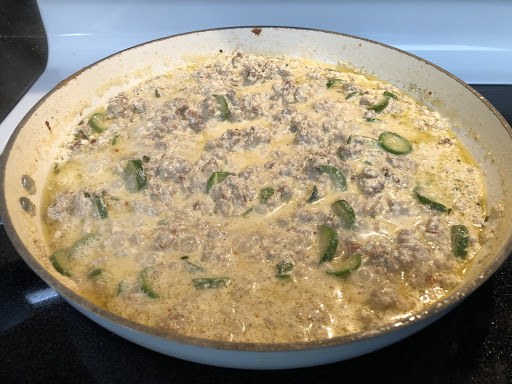 Cook the tortellini in boiling water, according to package instructions, or until al dente.
Drain the pasta and add it to the pan with the turkey and stir. Serve hot topped with grated Parmesan cheese.
Tips
Once you add the cream, you can taste it and add more salt, ground black pepper, and red chili flakes (optional) based on your preference.