[Recipe] Bolón De Verde: The beloved green plantain ball
This recipe is part of our new culinary series, The Global Kitchen, which features recipes from all over the world, provided by our own international student reporters.
Start to finish: 30 minutes
Servings: 3
Cuisine: Ecuadorian
Area of origin: the Coast
Difficulty level: Medium
Spice level: None
I grew up surrounded by green plantain lovers. My family, my close friends and immediate relatives all love them. I'll dare to say that it would be weird to find an Ecuadorian who doesn't love green plantains. Green plantains are part of everyday meals in Ecuador and they are a must for the classic dishes of Ecuadorian cuisine, especially when we are speaking about Guayaquil, a city on the coast of Ecuador and my home for 25 years. Green plantains are rich in flavor and nutrients, and they are so versatile that they can be prepared in numerous ways. However, they are most commonly prepared for breakfast, as is the recipe that I'm about to share – Bolón de Verde. We call it "Bolón" because of its round shape. You'll notice that I describe it as a "ball" in the recipe.
Ingredients
3 small green plantains
1 cup Canola oil
160 grams queso fresco (white cheese) (If you can't find this, you can use mozzarella cheese.)
3 teaspoons kosher salt (You can adjust the salt content according to your preference.)
½ cup cilantro
3 tablespoons butter
3 eggs
1 pinch pepper
Procedure
Cut each green plantain into thick slices.
On a pan over medium-low heat, add the oil. Wait for 1 minute.
In the pan, deep fry the plantain slices on both sides.
With a mallet, smash the fried slices of plantain. Deep fry the slices again. Fry each side for 2 minutes.
Cut the double-fried slices of plantain into smaller slices. Add them to a bowl, and add the grated cheese, kosher salt, chopped cilantro and butter. Coat your hands with butter and mix the ingredients.
Using your hands, roll the mixture into balls. There should be enough mixture for three balls.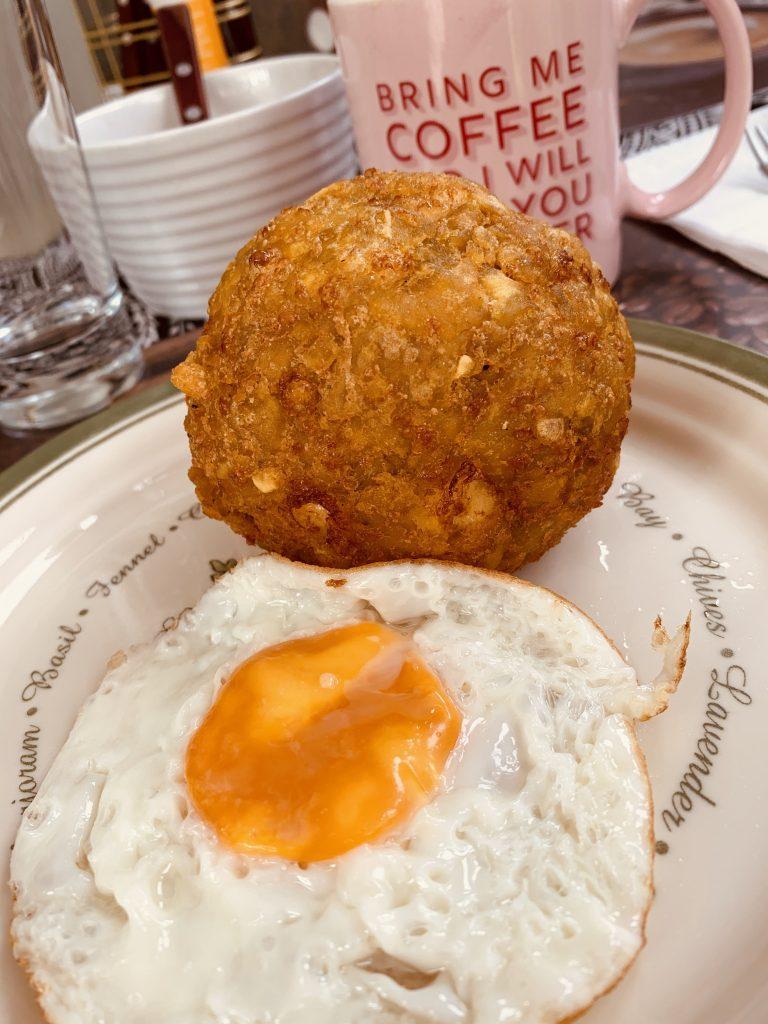 Fry the eggs.
Serve the ball with the egg on top. Add salt and pepper based on your preference.
Tips
You can make sunny-side-up eggs, scrambled eggs, poached eggs, or cooked eggs – it's up to you! My suggestion would be to prepare the egg in a way that leaves the yolk soft so that it can fall into the ball when you break it.
After breaking the egg on the ball, you can also mix them together for a crunchy green plantain omelet of sorts.