"Kaliente" And Volleyball Brings Vibes from Latin America to Northeastern University
With Spanish songs played in the Cabot Center, Northeastern's Latinx Student Cultural Center celebrated Hispanic Heritage Month with a volleyball match on Oct. 1. Volleyball is a hugely popular sport in Latin America. 
Red was everywhere, on the flags hanging on the walls alongside the national flags of countries from the region, on the free t-shirts for students that said "Los Huskies". Red is Northeastern's color, and the color most synonymous with the fire and passion associated with the region.  In Chinese culture, red is a color of luck.
After the third set of the match, the university's "Kaliente" dance group brought Latin culture to the audience, performing routines to the assembled audience to popular reggaeton music. "Kaliente" is a play on the Spanish word for "hot," "caliente."
Nicole Rodriguez, a second-year student and the president of the Kaliente dance group, said, "I love having a connection with the culture and everything, I'm part Cuban and . It's really nice to meet every week to practice and get in touch with my roots. They are just really good people, with really good energy and dancing is a lot of fun." 
Crystal Herrera, a fourth-year student who joined the dance group in her freshman year to find an exclusively Latin space to connect more with her culture, said "We are more than a dancing group and we welcome people from all different cultures. We also do social services and help low-income communities. The people in this group are incredible."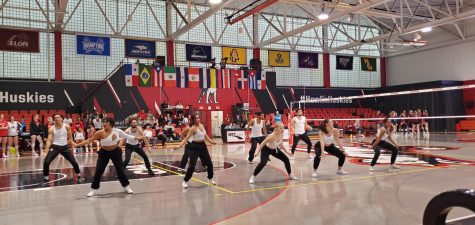 During the COVID-19 pandemic, a lot of the members left the group, as they were PhD or Graduate students who graduated during the pandemic. Herrera, though, recognising the power of the dance group for members of the community on Northeastern's campus,  worked hard during the pandemic to rebuild the team.
Herrera said Kaliente not only tries to build a Latin community but a multicultural community on campus because there are lots of other minority ethnicity student groups here. Herrera served as president for two years, and then she used her experience and started initiating programs to expand access to cultural education for lower income, inner city students across Boston. "NU Kaliente Dance Group" collaborated with the Hennigan School and with "NU Dream," another campus organization, to put on activities for students aged 4 to 18 who come from affordable housing neighborhoods.
"We are more than just a performing team," said Herrera. "We put on workshops and we have a branch of our executive board dedicated to community service. And so we welcome everyone to our space, no matter where they came from or their cultural background. They are always welcome and embraced. And our space is a place to grow, to collaborate."
Any Hispanic Heritage Month celebration would not be perfect without tacos, a special symbol of Latin American culture, so after the game (a resounding Northeastern victory) had finished, we grabbed some at a nearby restaurant.