[Picture Story] Nightlife getting back to normal in China
As fears of the coronavirus fade, the routines of normal life are returning to cities and towns in China — not just in the big cities, like Beijing and Shanghai, but the smaller places too.
Take Yiyang, a city in Hunan, close to Hubei province, with an ancient history. By American standards, it's big — more than 4.4  million people. But in China, it's not. And outside the city are many small villages and towns.  Life here is slower than in the big cities. People are more relaxed, with a better work-life balance in their lives, and enjoy a more leisurely pace. 
COVID-19 is not a big concern now. People do not wear masks anymore There are no more masks, except in the supermarkets, and on subways and buses.
A sure sign of the return to normalcy is the resumption of nightlife. 
Look, here come the street vendors, selling Hunan's famous spicy treats and feeding hungry students with steamed pancakes and fried chilled noodles.
High school students enjoy street snacks after their usual night classes.  This special, time-honored night stall culture helps feed every needy soul with warm family style food.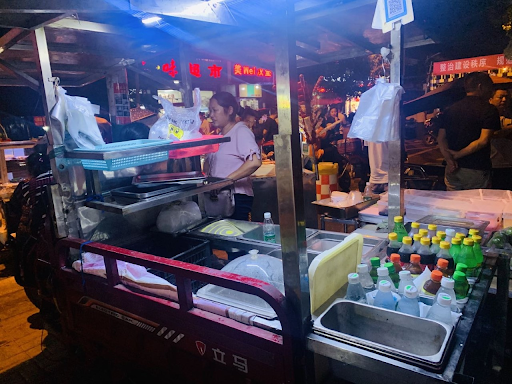 You know the routine: chat with friends at the regular booth, order your favorite food and pay with your mobile phone. For a little while, you can forget about your concerns and other complications in your life.
It's not just the students who are out at night. Families happily eat barbecue and relax. Mothers watch their children play fish-catching games and on bouncy castles with other children in the central garden park. Back to normal — it's a good place to be.