Northeastern University celebrates Diwali
Diwali, a religious festival associated with the coming of happiness and prosperity for all, illuminated Northeastern's campus last Thursday night with good food, bright lights and community spirit.
Over 1,000 people attended the event in Ell Hall, hosted by Northeastern's Office of Global Services, Centre for Spirituality Dialogue and Service and NU Sanskriti, the university's graduate Indian student's association.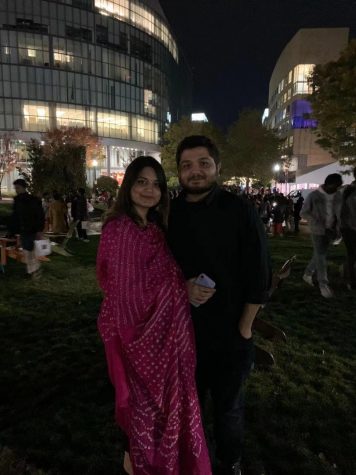 Deeti Tarsaria, from Gujarat, India, was involved in organizing the event as head of promotions with NU Sanskriti. The organization has over 500 members, and its main goal is "making Indian students feel at home and fostering our culture here on campus," Sansari said. Putting the event together was no simple task. Preparation took two months, according to Sansari, and included one month of daily, five-hour practice sessions.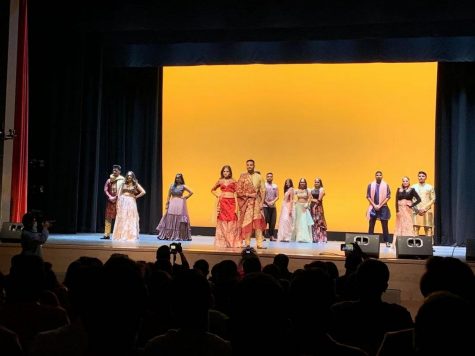 "Our goal as an organization is to make you feel just a little closer to home. And home is a feeling, right? We all have that mother-like roommate who cooks good food, that father-like classmate who gives good advice," the event's three hostesses, Pearl Pullan, Samiksha Shetty and Shriya Kenkre, described, capturing the fraternal atmosphere present throughout the evening's festivities. They described Diwali as the festival representing the victory of light and love over evil, a spiritual journey leading from darkness to light.
Diwali is one of the major religious festivals in Hinduism, Jainism, and Sikhism, lasting five days in late October and November. The name is derived from the Sanskrit term deepavali, meaning "row of lights," which originates from the tradition of setting out oil lamps each night during the festival. The celebration of Diwali generally symbolizes the victory of light over darkness.
Professor M. Whitney Kelting, an associate professor of religious studies at Northeastern, said that Diwali was "the renewal of blessing for the good fortune and wellbeing of the home for the coming year."
"Most communities celebrate in part by worshipping the goddess Lakshmi who is the bestower of good fortune and domestic happiness. It is widely held that Lakshmi wanders and will enter the homes that welcome her with lights," Kelting said.
Diwali is a time for visiting friends and family. "Diwali celebrations are to be done with family and relatives together, a unifying event which can soften even the hardest of hearts," said Upendra Datish Deshpande, 26, a data and analytics engineering graduate student at Northeastern from Pune, India. Those who celebrate also exchange gifts, wear new clothes, feed the poor and set off fireworks.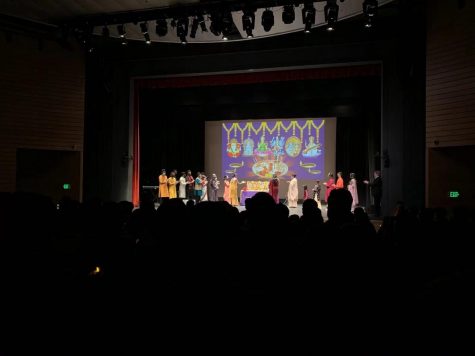 During the event, contemporary Indian pop music played as a close-to-capacity Blackman Auditorium filled to the rafters. Those who had braved the cold fall night in traditional dress greeted friends, and a sea of expectant faces bobbed above colourful saris and kurtas. The energy in the room was palpable, and excited chatter serenaded the three hostesses who took to the stage to welcome attendees and start the festivities.
The show consisted of introductions from the president of NU Sanskriti, Deep Kathari, as well as Alexander Levering, executive director of Northeastern's Centre for Spirituality Dialogue and Service, before traditional prayers and blessings associated with Diwali and a show of music, dancing and fashion that ran for more than two hours.
"On behalf of spiritual life at Northeastern, you each look beautiful. There is a light in each of you on this occasion of Diwali. You make Northeastern Northeastern with your light. Shine on in your beauty, talent and vitality," Levering said.
Aman, a data analytics graduate student from Kerala, India, is in his first semester at Northeastern. "I'm missing my family, but I'm so excited for tonight. Apparently, NU does a really good job," he said. When asked what he was most excited about, Aman said, "The food. Of course, you should try the samosa chaat. But ask for it not Indian spicy."
The most valuable part of Diwali for those who celebrate is time with family, a chance to reconnect and enjoy each other's company.
"Diwali means everything to me because that is the only time when I am with my people. Everyone has holidays for the festival, and no one is working or studying during that time. So, it's the time when I meet my closest friends in my hometown to hang out. Also, I get to meet my cousins and other family members, with whom I meet occasionally. So, overall it's an occasion which brings people together, no matter what region or religion someone is from," said Harsh Jadhav, 26, a journalism graduate student at Northeastern.
Despite the preparation that went into the event, it still isn't the same as celebrating at home, Jadhav said. "I can't hear the noise of crackers bursting late at night or early in the morning. I miss my family and friends, which is the main purpose of Indian festivals. So, if I'm not with them in my hometown, it does not feel like Diwali, and I don't feel like I'm celebrating, to be honest," he said.
The music was performed by NU Sanskriti's dance team, a band of more than 20 members, who delivered traditional Bollywood and other culturally-iconic songs to a delighted crowd, who clapped and cheered along.
"Music and lights are the most important thing for me about Diwali. Brightness. There are different types of music, but it plays a crucial role. It gets wild with the dancing," Aman said. "The music tonight is melodic classical Indian music, praising and giving offerings to the Gods. Like a carol for Christians."
"Diwali is a time for family, and I'm sure you are missing your homes. I know I am," Gaurav, a former graduate student at Northeastern and the keys player for the evening. "But for all the musicians on the stage and me, this feels like home after one and a half years. So thank you for making us feel like that," Gaurav said while introducing his bandmates to the crowd.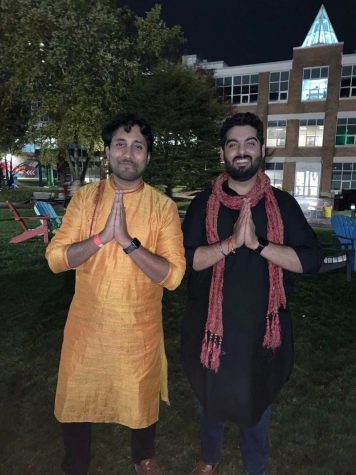 The dance team's performance was a fusion of traditional dress and dance with modern street dance. Over 25 performers were involved in several choreographed routines, with loud- and high-tempo music and a multitude of colors.
"The role of music in NU Sanskriti is more than the music itself. It's collecting all this talent under one roof," Gaurav said. "It's very important and what we try to get is culture from north and south, west and east of our country and culture, with every city represented. So, for example, we have previously sung in 12 languages."
"The groups have all been together for six or seven years, so they are well practised. The music merges classical influences with pop culture, as well as incorporating regional themes from different locations around India," said Dishit Sansari, Deeti's husband.
Mohit, who graduated from Northeastern with a master's degree in industrial engineering, is now a process development scientist at Vertex Pharmaceuticals. He plays guitar in the same group as Gaurav, and at one point during their performance, impressively played his guitar behind his back.
"Music is a big part of Indian culture. Without music, no event is complete. We communicate more with music than words," Mohit said. For Mohit, celebrating Diwali at Northeastern is about "lights, missing your family and delicious food."
The event moved to Centennial Common and went late into the night, with a DJ, places to offer prayers and food stalls provided from local vendors offering classic dishes including samosa chaat, hakka noodles, idli sambar chutney, gajar ka halwa and mango lassi.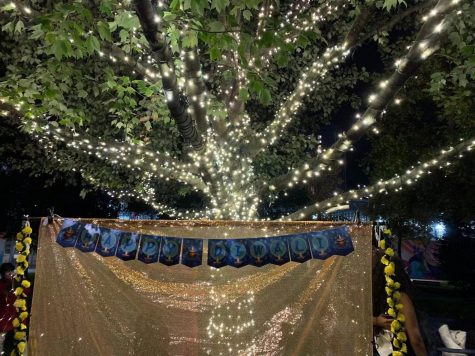 "Diwali for me is togetherness and the promise of prosperity. We light lamps for positivity, and it is a festival of togetherness. Food makes it feel like home," said Dishit.