Why Pakistan's Flood Devastation Has Lost Our Attention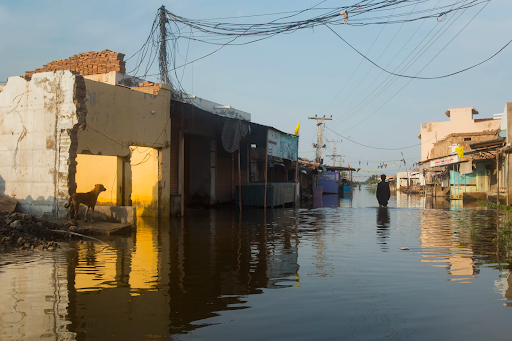 The energetic voices of bargaining customers and the smell of fragrant street food accompanied Zara Mann, 25, as she roamed around multicolored stalls on the busy paths of Islamabad, Pakistan. Mann, a Pakistani-American software engineer from Irvine, California, visited her native country in August.
A few days after boarding her flight back home to the United States, the lively streets she walked through in Islamabad were submerged knee deep in water.
This summer, Pakistan experienced unprecedented monsoon rains, which left a third of the country flooded and millions of people displaced by late August. 
Mann said she first heard about the devastation while watching a Pakistani news channel on television with her parents, describing it as, "hard to watch." 
In disbelief, Mann said her parents switched the channel on their television to other local and national media outlets, but were shocked at the sparse coverage of the events in Pakistan. 
"While there's coverage in Pakistani media there's not that much in western media," Mann said. 
Based in Lahore, a city in the Punjab province of Pakistan, Shahbano, a 30-year-old elementary school teacher, said people around her had their lives turned upside down after the floods. "The helplessness of the people affected by the flood was heart wrenching," Shahbano said.
Despite the severity of the crisis, she has not seen much international awareness around the issue. 
Shabano said her family and friends reached out to different organizations to provide monetary help, but she does not feel civilian donations will be enough to rebuild her country. 
Shahbano said that in recent weeks, even in Pakistan, the media coverage of the floods has died down. She added that donations have also decreased because the inflation stricken population cannot afford it. 
Crystal Haynes, a reporter for the Boston 25 News and part time lecturer at Northeastern University, said international stories do not typically resonate with local audiences, despite the fact that in a diverse area like Boston, there is a large international population. 
"The resources for covering those stories, at least in local television, tend to be very small," Haynes said. 
In order to appeal to a large number of viewers, Haynes said that international stories do not get covered unless there is a local effort or protest, and stories about people of color tend to be pushed aside. 
Zulakha Sheikh, 24, an academic advisor from Islamabad, who lives in Irvine, said there has been little local charity efforts in her community. "I am disappointed in the local Pakistani American community. I feel as if we should have quickly initiated fundraisers," said Sheikh. 
As a Pakistani-American living out of harm's way, Sheikh feels a form of survivor's guilt: " It feels almost wrong that I get to enjoy all the perks while living miles away in America," she said. 
Mann shared a similar feeling of guilt as a Pakistani-American, watching Pakistani buildings collapse on a phone screen miles away from the devastation. "Within Pakistani-American communities, people donate and spread news, but a lot of the time it doesn't go outside of that," Mann said. 
 Inefficient charity efforts and a lack of awareness can have severe consequences for the response to a catastrophic natural disaster of this scale. 
Recent college graduate and Lahore native, Hadia Nadeem, 23, said she knows low income families in her area who have lost their homes and crops, and their helplessness is overwhelming. 
"The fact that no one cares about what is going on makes me angry," Nadeem said. "We are a small nation who are bearing the brunt of all harm done to the climate by the other big nations." 
Nadeem's sentiments are supported by an array of recent climate research. According to the Associated Press, Pakistan is responsible for just 0.4% of the world's carbon dioxide emissions, while the U.S. is responsible for 21.5%. 
Despite this ongoing crisis, there are few occurrences where the real life, day to day issues of climate change are deemed newsworthy enough to be given consistent media attention.
"A lot of times we don't have the conversation about climate change on local television because it's difficult to explain," reporter Crystal Haynes said. "It can be highly technical, we have a limited amount of time, and viewers tend not to have as much focus on that." 
Newsrooms can weave the climate crisis into local issues like rising gas prices and approaching weather events, Haynes said, but when natural disasters are accompanied by death tolls and devastation, speaking about civilian accountability towards climate change on television is often viewed as distasteful. 
Moreover, an increase in climate change denialism and islamophobia could be an underlying cause of the media gap. "People still believe climate change is a political hoax, and when we are talking about Pakistani people, or a community where there are Muslim people, viewers tune out beacause they see it as not important," said Haynes. 
Lahore native Hadia Nadeem said she wants to see renewed headlines in mainstream western newspapers and live coverage of the crisis to promote relief donations from wealthier nations, in order to combat long term economic effects. 
Despite the current state of the crisis, Nadeem also has hope in the Pakistani organizations that are actively restoring flood stricken areas and collecting donations. Nadeem said,"I will always believe in the resilience and giving nature of Pakistani people."
When the rain subsides and the streets dry up, Pakistanis will continue to struggle through the economic after effects of the devastating flooding. "I just hope that we are able to rebuild," said Nadeem.