Chinese international students: Struggles to get home in a pandemic
The coronavirus epidemic sent thousands of Chinese students abroad scrambling to get home in March. Instead of a month spent attending classes, studying in the library and preparing for exams, they had to deal with canceled plane tickets, long days in isolation, and an endless series of medical tests.
Hao Qi, a Chinese student at San Francisco State University, had a tough time looking for a ticket home.
Qi said that when she started booking on March 14, flights were canceled on a large scale and prices rose sharply. "Before the [pandemic], plane tickets to China usually cost me 6000 to 8000 RMB," or about $850 – $1,100 USD, she said. 

This time, an economy class ticket cost about 15,000 RMB ($2,200 USD).

Her struggle didn't stop with a high price tag. She said she wanted to fly from the U.S. to China through Taiwan, the cheapest option. However, at the time, Taiwan had a policy that did not allow travelers to transfer or enter Taiwan. So she booked a flight to Hong Kong on March 24.

However, one day before the flight, Hong Kong Airport announced that no transfers or entry into Hong Kong would be allowed after March 24. "Considering the time difference, I knew that I had to buy another ticket," Qi said. 

The next flight she booked was canceled too.

"I was so depressed and frustrated, but I didn't give up," she said. She purchased a flight from Los Angeles to South Korea on March 27. Qi flew from San Francisco to Los Angeles. But when she arrived, the Civil Aviation Administration of China issued a new policy: each airline operating in China can only keep one route to any country, and each route cannot operate more than one flight per week. Yet again, her flight was canceled.
"I stared at my phone and I felt so exhausted," Qi said. Standing in the airport lobby, she wondered what to do. "I didn't know where I could go, I had no place to stay." Qi had already canceled the lease of her apartment in San Francisco. Fortunately, a friend agreed to house her for a few days. 

Finally, she booked a flight from San Francisco to South Korea on April 3, and a flight from South Korea to Xiamen on April 5. "I quickly purchased these two tickets and returned to China on April 5," she said. 

Zhuo Chen, an exchange student in South Korea at Dankook University, didn't even get a chance to go back to his dormitory before he returned to China.

In February, Chen arrived in South Korea, ready for his new semester.  However, Dankook University asked Chen and others to start self isolation after their flight landed at Seoul International Airport. 

Chen stayed self-isolated for five days. He was not allowed to go outside, all his supplies were delivered to his doorstep, and he had to report his body temperature three times a day. 

On Feb. 28, Chen's university back in China demanded he return as soon as possible. "I didn't even get a chance to go back to my dormitory to pack," he said. Chen traveled back to the airport that same day.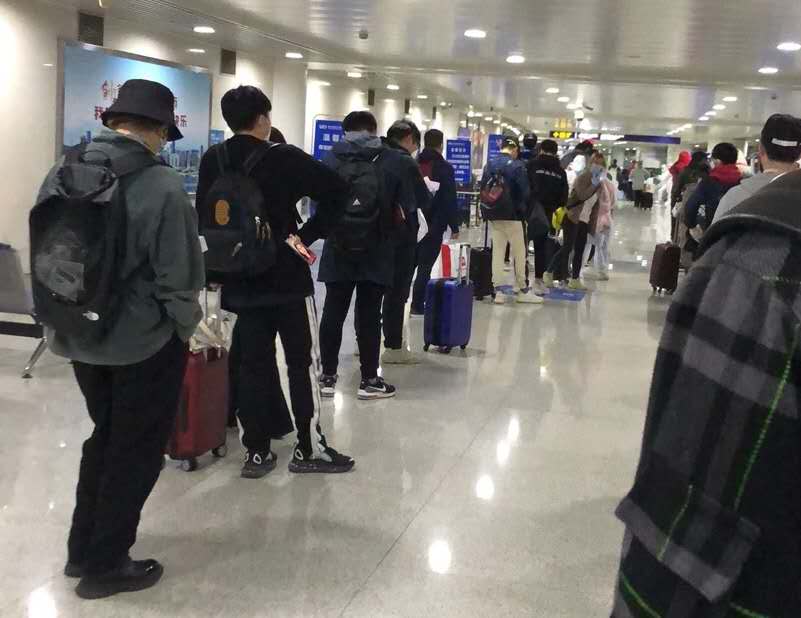 Seoul International Airport's policy checked every passenger's body temperature at the boarding gate. "I was told that if my temperature was higher than 37℃ (98.6℉), I will not be allowed to get on the plane," Chen said.

For self-protection, Chen had three masks, a pair of protective eyewear, gloves and a hat. He worried about sitting in the plane. After he was seated, he was surprised to find that the passenger next to him was from Daegu, which had been severely affected by COVID-19, Chen didn't take his mask off for the whole flight.

After the plane landed in China at Jinan Yaoqiang International Airport, it took three hours to empty the plane, as each passenger's temperature was checked. Chen's temperature was 37℃ (98.6℉). 
"I was immediately taken to a room by the airport staff," he said. "They asked me to wear a protective suit, and then I had my first nucleic acid test." He saw that the person seated next to him had a temperature 37.5℃(99.5℉). "At that time, I felt that I have never felt so scared in my life." 
Chen was driven by ambulance directly to Jinan Chuanranbing Hospital. He needed to stay for more tests. 

"As soon as I arrived at the hospital, I had a CT test on my lungs to check if there were shadows, and a blood test," he said. Next day, more tests. That afternoon he was told the tests were negative, but they had to run more tests, over the next few days. Finally, he was allowed to leave, but needed to self isolate at home for 14 days.
At home, his parents had to self isolate too. Public workers stationed in front of his apartment to make sure the Chens stayed at home. After that, they installed a camera to replace the staff. "My family and I totally understand why our community took those measures," he said. "We need to be responsible for our neighbors' health."

Two weeks later, Chen was tested again. The tests were negative. "So just like that, my life returned to normal, that camera was taken off immediately," he said.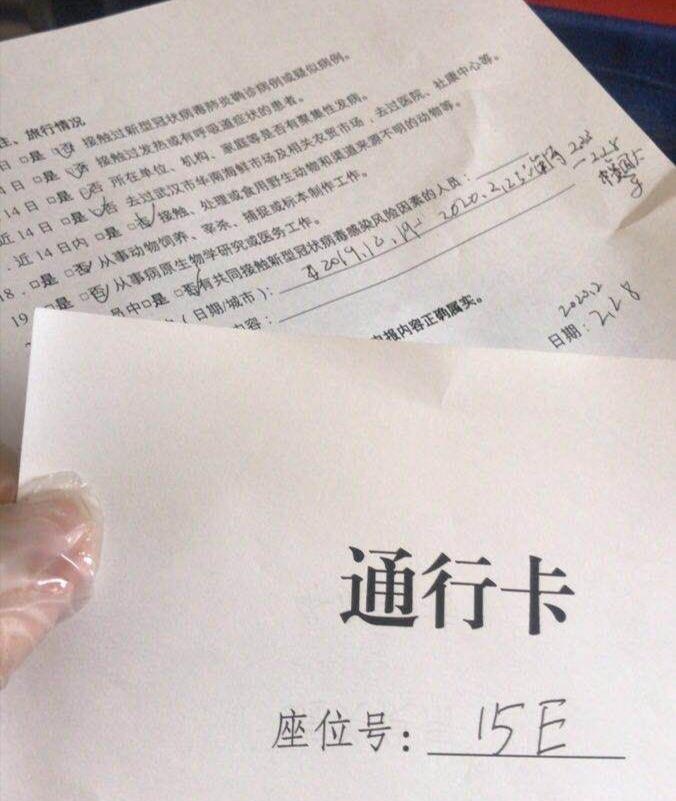 Violet Chen, a junior student studying in a private high school in Maryland, was asked to fill out a "declaration of health" form on her flight to China. The form asked the passenger if he or she had been in contact with people diagnosed with the coronavirus, if there are confirmed cases in the community where the passenger lived before, if the passenger has any suspected symptoms, etc. 

Getting off the plane, she found people wearing protective clothes who measured the temperature of each passenger. Then, all passengers got off the plane, row by row. Everyone handed over the completed form, and then they had a health test. After picking up luggage, people were driven by shuttle buses to the quarantine hotels for 14 days of quarantine.

Ziwei Zhang, a senior student at Duke University, said when she arrived in her quarantine hotel, "I needed to report my body temperature twice a day. My quarantine days were pretty nice because the hotel staff always tried to help us as much as possible."