Saigon street food in Boston: Not your typical Vietnamese meals
There's an online food shop in Dorchester whose recipes come straight from the streets of Saigon, and they're not selling phở. 
Owner Cathy Phan of Viet Munchies cooks in her kitchen and patrons can pick up orders at her house or have them delivered. With snack dishes made with a mix of ingredients familiar to Americans like chicken, rice, shallots and more exotic ingredients like intestines and durian, Viet Munchies delivers on the authenticity of Vietnamese food but offers a niche and unique taste of the cuisine that has yet to enter the mainstream American food scene.
Northern Vietnam supplied recipes for the most globally celebrated Vietnamese dishes, like phở bò, phở gà, or chả giò, so northern cuisine became synonymous with Vietnamese food. But Viet Munchies' inspiration comes from Saigon, formerly the capital of South Vietnam and now the largest city in the reunified country.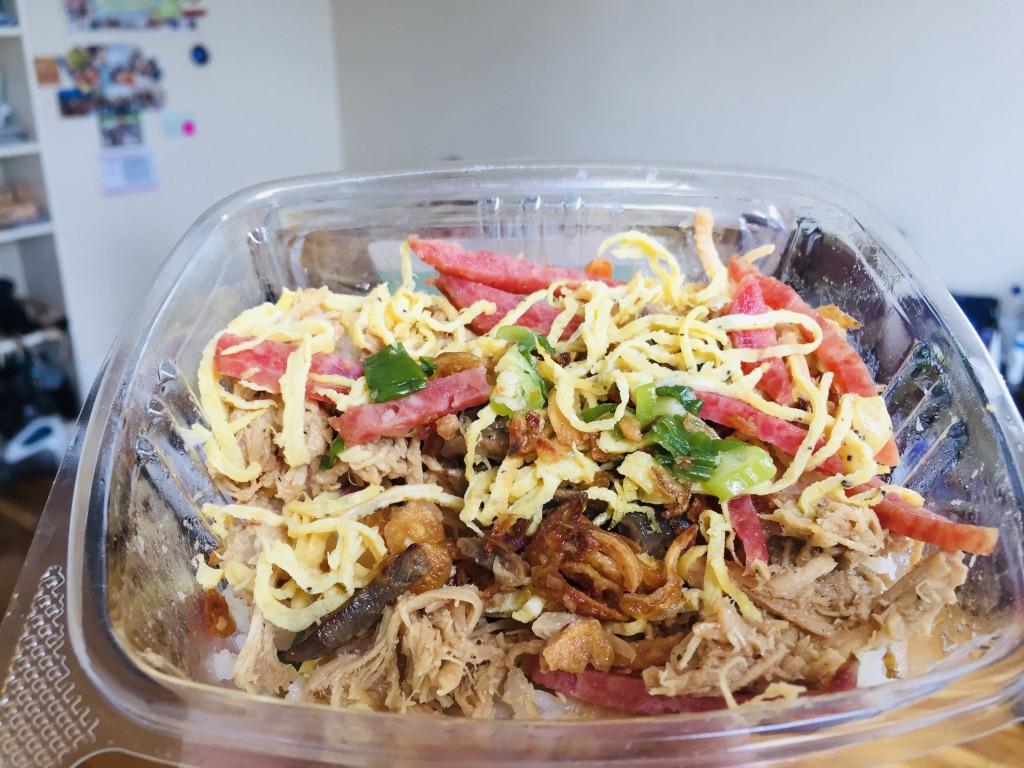 The online shop sells dishes often eaten as snacks or part of light afternoon meals, such as bánh tráng trộn (rice paper salad), xôi  (sticky rice), and phá lấu (offal stew). Even though these dishes are popular in Vietnam, they are absent from the menus of most Vietnamese restaurants in the United States. Phan said she learned these recipes from her mother, who frequently cooked these dishes for her kids.
Viet Munchies' most popular dish is sticky rice, available in two varieties. True to its name, sticky rice has a glutinous texture and slight sweet taste; it pairs well with meat for a savory appetizer or custard for a dessert.
The savory option comes with thinly sliced omelet, shredded and stir-fried chicken, tiny dried shrimp, Chinese sausage, fried shallots, green onion, a dash of soy sauce and — wait for it — chicken gizzard, an organ whose taste resembles that of dark chicken meat but is richer and chewier. The inclusion of chicken gizzard and Chinese sausage not only piques the curiosity of American eaters; it marks the unabashed authenticity of this sticky rice, which tastes exactly like what I have eaten from street vendors in Saigon.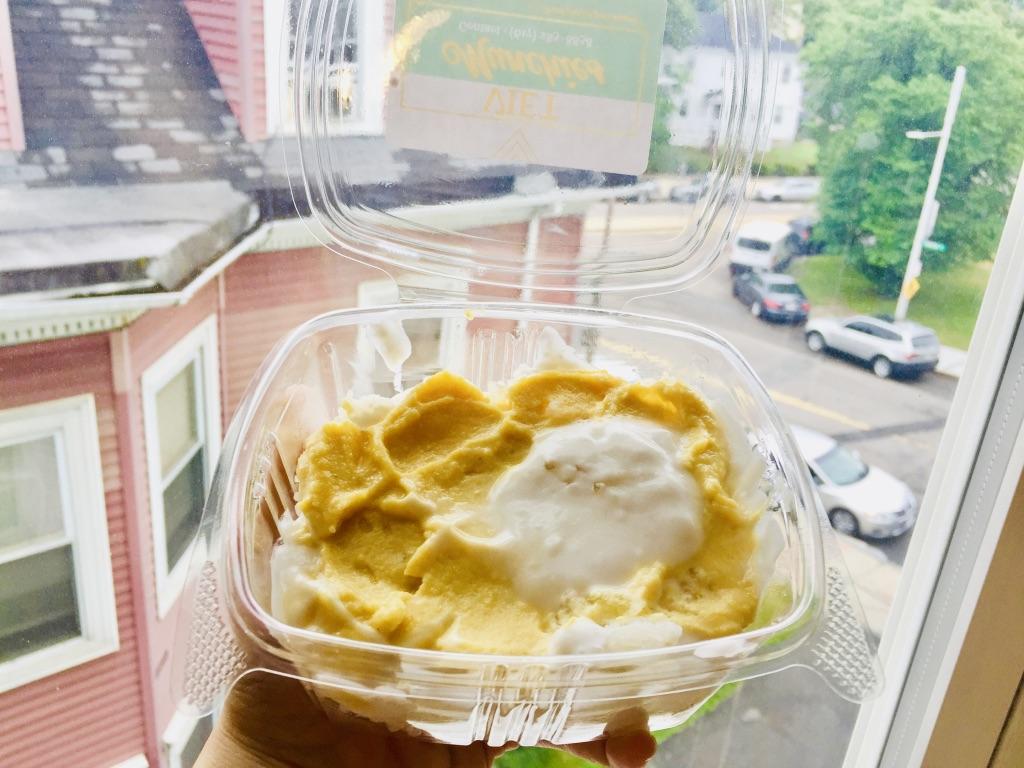 The sweet option comes with a thick bed of what looks like custard but is a smooth blend of coconut cream and durian. Durian is a controversial Southeast Asian fruit because of its smell. It is dubbed the most pungent fruit in the world by westerners whereas Southeast Asians think it has a fragrant and irresistible smell. In this dish, however, the durian is not debatable. It is lightly sweet, nutty, and in the words of my American friend, "the first dish with durian that I've been able to enjoy."
Gà dù, or umbrella chicken, is Phan's take on American chicken wings. She scrapes the meat at the bottom of the drumstick and pushes it up to reveal the bone. "We wanted to do a recipe with chicken because I feel like everyone loves chicken," Phan said. "But I find that it's really messy to eat chicken wings. So we made a way to eat the chicken with less mess because then you can just hold the stick and eat it."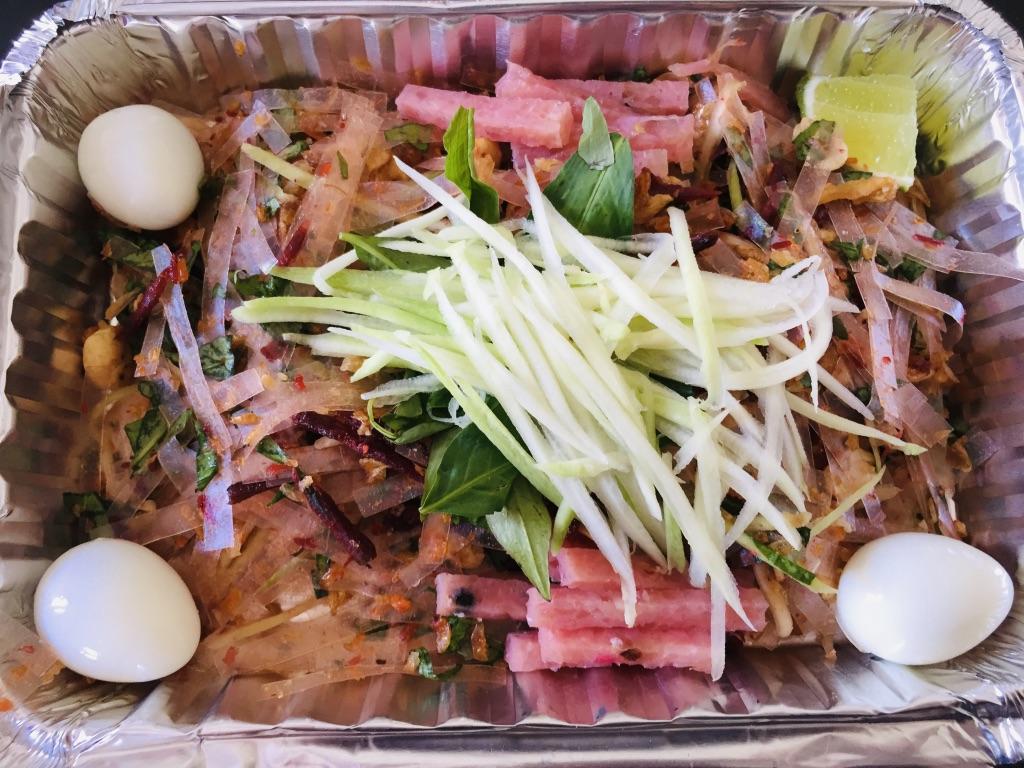 The chicken is lightly breaded and has a bright orange color. The slight sweetness of the homemade dipping sauce counters the chicken's savory flavor, while a deep note of ginger and smoky chilly balances out the rich, oily taste.
Another favorite snack of mine that Viet Munchies offers is bánh tráng trộn, or rice paper salad. A street food loved by most young Southern Vietnamese, I rarely see this dish sold in the U.S., and when it is, it tastes nothing like home. Rice papers, often used in wrapping Vietnamese summer rolls, are cut into strips and tossed with chili oil, beef jerky, dried shrimp, julienned green mango, tamarind sauce, toasted peanuts, boiled quail eggs, fried shallots and topped with fresh Vietnamese coriander, scallion and a lime wedge.
When you take a bite, the ingredients combine to create an explosion of sweet, spicy, sour and savory flavors, all the essence of Vietnamese cuisine.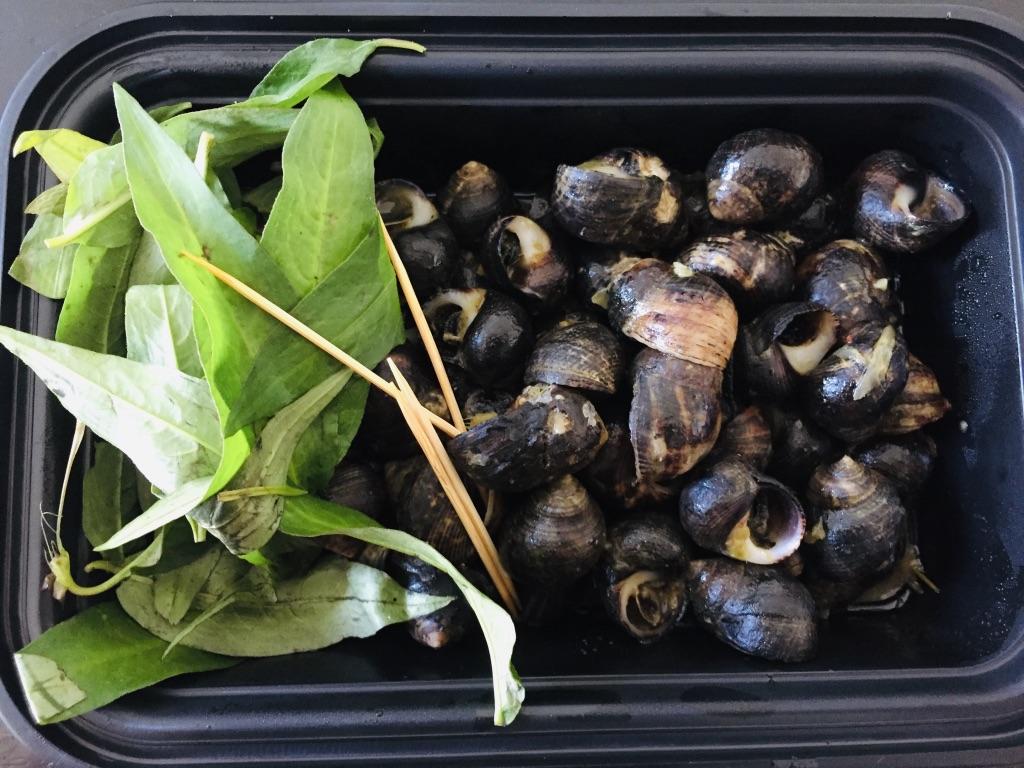 If you feel like getting something healthy on the side of the snacks, owner Phan has you covered. There are a variety of fresh fruit juices, from a combination of orange – peaches and carrot to kiwi, centella leaves and green apple trio. Popular drinks like boba tea (with homemade boba) and Vietnamese coffee (with a twist of toffee milk) are also available. 
While all these dishes are equally delicious, my favorite dish from Viet Munchies is savory sticky rice. It reminds me of being home in Saigon, and if you haven't been to that world-class culinary city, Viet Munchies might just transport you there through its food.