Eat, Pray, Love… without praying or loving.
Most college freshmen share the common experience of getting dropped off at their university, getting accustomed to the school and the new atmosphere, checking out the dining halls and meeting new people on their floors. But my experience was quite different. I was dropped off at the check-in desk at Boston Logan Airport with a passport and two suitcases.
After being accepted into the N.U.in program and deciding to go to Thessaloniki, Greece, I had an unrealistic idea of what my experience was going to be like. Let's be real, I envisioned my first semester to end up like the movies. Specifically the movie "Eat, Pray, Love."
Although my experience traveling to another country was far from a movie, it was the most rewarding adventure of my life.
The culture shock hit me as soon as I arrived in Greece. Being in a new environment was scary, and not knowing the language complicated things even further. Figuring out how to get through the city and meeting new people was a new step of independence.
Contrary to the common belief that semesters abroad are all play and no work, I did actually attend class. I was enrolled at the American College of Thessaloniki, a campus nestled among olive and plum trees. When I went to school, I was immersed in Greek culture. Not only did I go to school with Greek students, but with other study abroad students from all different countries.
Thessaloniki is not what I initially pictured when I imagined Greece. It is a big city, devoid of the stereotypical white homes with blue domes on top. One of the most beautiful things the city had to offer was the boardwalk. My friends and I spent a lot of our time there, watching the sunset or strolling along it after a night out.
One of the most defining features of the Greeks is their concept of time, or lack of therefore. The Greeks never were stressed with time. They spent their days leisurely drinking coffee, working when they wanted to, and overall living a simple life. It was a life I learned to envy coming from America, a country that's always pressed for time.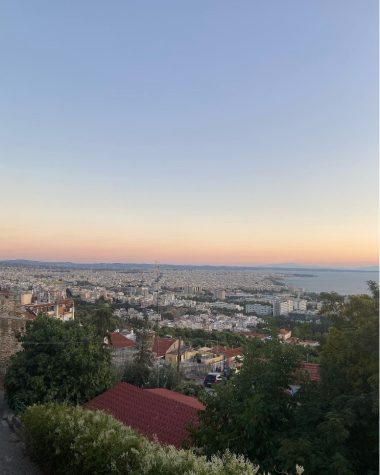 I found my "Eat, Pray, Love" experience in an unexpected way. From dancing on tables in Mykonos, to riding scooters around Paris, to trying the best gelato in Milan, I got to experience more than many people do in a lifetime in just three months. Barely knowing anyone beforehand, I had to break out of my shell and make connections with the people around me. If I decided to ultimately decline the N.U.in offer, I wouldn't have met the people who are now my best friends. To be honest, it is hard to explain how much impact my first semester had on me– maybe only the people who I went with would understand its magnitude.
I will not lie and say that my time abroad was always good. Navigating my first semester of college 3,000 miles away from my family–all during a pandemic– was not easy. I couldn't just be picked up when times got tough, or when the homesickness kicked in. There is no specific moment that comes to mind, but I do remember a constant feeling of uneasiness at the beginning. However, I realized that the abundance of emotions is completely normal for such a new experience.
This chapter in my life allowed me to display resilience and strength. Spending time in a foreign country allowed me to understand life's value. My first semester was life-changing, and I am lucky to hold these memories with me forever.