Signs of moving forward: After decades of advocacy, bilingual street signs emerge in Chinatown
The construction of bilingual street signs in Boston's Chinatown is a heartwarming story; it is the result of many years of efforts by the Chinese immigrant community, with the support of the local government, to bridge communication gaps and truly make living in the neighborhood feel like home.
Chinese immigrants and residents in Boston have advocated for bilingual street signs for more than two decades. Jiajie Wang, a representative of the Chinatown Residents Association (CRA), is one of them. Originally from Guangdong, China, Wang immigrated to the U.S. more than 20 years ago and has lived in Chinatown for 23 years. He said that the bilingual street signs project took a long time to come to pass.
The former presidents Shiang Yu and Xiansheng Yu of the Chinese Progressive Association and Chinatown Residents Association proposed bilingual street signs in the early 2000s. Since then, the community has struggled for decades to get bilingual signs in the neighborhood, and it is the achievement of two or three generations. Wang said the bilingual street signs project was approved by the former acting Mayor Kim Janey, City Council President and District 2 Councilor (which covers Chinatown) Ed Flynn has also put a great effort.
According to Wang, that significance is how their implementation "greatly improves the life of residents in Chinatown and provides a profound cultural inheritance for Chinese immigrants."
"Bilingual street signs have massive significance," Wang said in Mandarin to The Scope. "In the past, people could only say the name of the restaurant to meet on a date. Now we can say to meet on a certain street, which is a great convenience for us."
Before the bilingual street signs were built, many people, especially the elderly, lived for decades without knowing the street's name because they did not know English. Living on a street without knowing its name made life very inconvenient for those residents. Wang also said that "while English street names are hard to remember, Chinese names always can be firmly remembered by residents."
When the Chinatown community first raised this issue, then-mayor Thomas Menino ignored it, and nothing was achieved until recently.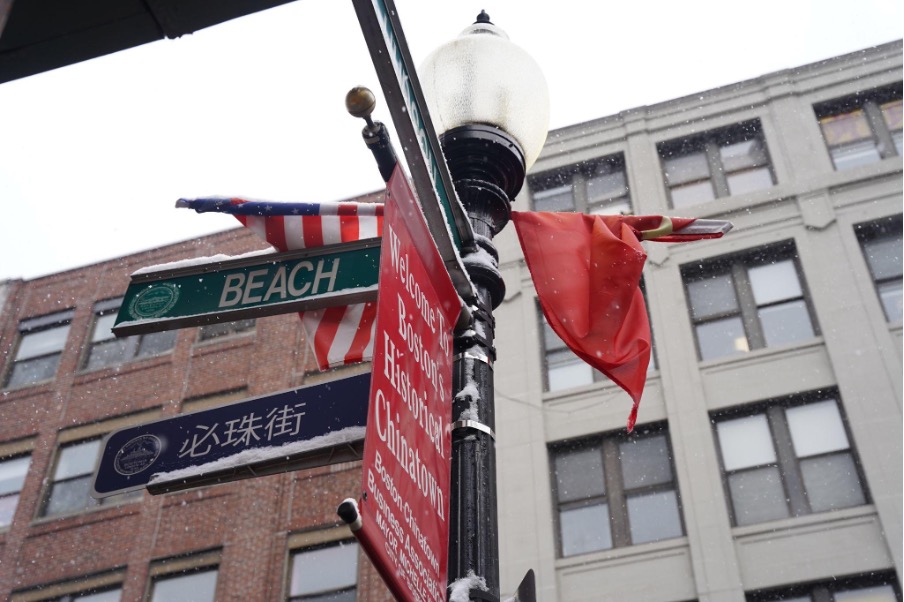 Constructing the bilingual road signs was very difficult due to unpredictable and extreme weather conditions like heavy rain and snow. After taking over as the mayor, Kim Janey planned to implement bilingual street signs in Chinatown, but snowfall stopped construction in early November. Last December, the signs were finally erected on Boston's Chinatown's main streets.
Wang said that the City Council is now taking the Chinatown community more seriously. Those all-important decisions will be made for the benefit of Chinatown residents, adding that current lawmakers have been very supportive of the bilingual road sign project…
Councilor Flynn has been one of the main advocates on the City Council in support of the signs. In a recent interview with The Scope, Flynn said that "he respects the Chinatown community and recognizes the needs of residents."
When Flynn was running for city councilor four or five years ago, members of the CRA advocated for bilingual street signs and asked him to support this. Not all of the signs are installed, and the rest will be done after the winter is over. Flynn said all the signs will be erected in summer 2022, and he believes it would be a great achievement to have bilingual signs all over the Chinatown community.
Mayor Michelle Wu also played an important role in establishing bilingual street signs.
Flynn credits Wu for demonstrating positive leadership and respect for immigrants by ensuring immigrants' voices are heard throughout the city.
"I am just honored to be a part of it to work with the Chinese Residents Association and the Chinese Progressive Association," Flynn said. "as well as to accomplish this for the residents."
Flynn's commitment to inclusivity does not just stop at the streets of Chinatown. "Of the five people on my staff, four of them are women of color, and four of them are immigrants. I'm proud to represent a large immigrant community in Boston," he said, "We do a lot of outreach and support of immigrant neighbors across Greater Boston, not just in [District 2]."
Other city officials, along with Mayor Wu and members of the Council, have been supportive of the Asian American and Pacific Islander (AAPI) community. City Council is working to ensure that there are government officials who can speak Cantonese and Mandarin to effectively communicate with the more Chinese residents who do not speak English.
Flynn said better medical services would be provided to the Asian community, as well.
"Asian women in Boston have the lowest screening rate for breast examinations," he said."So we need to make sure that we provide communication outreach to Asian women."
Pediatric care for Asian women and children is also very important. Flynn will continue to work closely with city, state, and federal officials to provide the best health care and services for everyone in the city.
"During these difficult times, we also saw hate crimes across the country going up and anti-Asian racism increasing," said Flynn. "We stand with the Asian community during these difficult times, and they deserve to be treated with respect and dignity.
Many feel that building bilingual street signs is an important message to show that the Boston government supports the AAPI community. Supporters also hope for the eventual inclusion of Chinese-language course offerings for primary and secondary schools in Chinatown.
Wang has other long-term plans for Chinatown, starting with making public toilets available. Currently, there are no public bathrooms in the area, and as a result, the streets are filthy, he said. There are always people defecating everywhere, not only from a passerby but also people who are always in the neighborhood. Cleaning up is not a fundamental solution, and when government leaders arrive, they can only cover the smell with perfume.
"I have talked to the government every year about this, but they have refused," Wang said. " …believing [that] homeless people may also use the restroom, which [would] detrimental to the ladies who use the restroom."
He believes that along with the bilingual street signs, "the construction of public toilets will greatly beautify the environment of Chinatown" and continue to progress the community.
This story was done in collaboration with The Scope: Boston.