"Viva Maestro" Documentary Review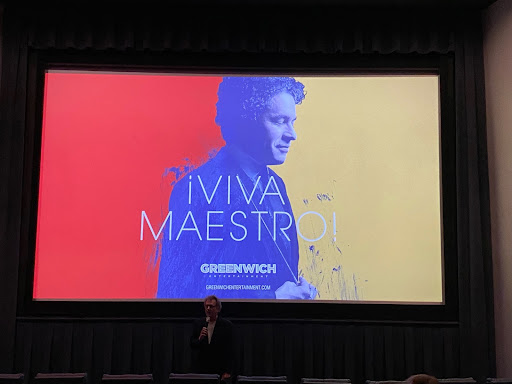 The documentary film "Viva Maestro" is the latest work of director Ted Braun. His interest in portraying different realities has moved him to explore and put on screen previous jobs like "Darfur Now" and "Betting on Zero." This time, for a change, he wanted to present some beauty and he chose to document part of the work of Gustavo Dudamel, the Los Angeles Philharmonic Orchestra conductor.
Dudamel is a Venezuelan conductor and violinist who was named one of the Time's 100 most influential people in 2009 Gustavo Dudamel – The 2009 TIME 100. He has won several Grammy Awards, including the one for the "Deutsche Grammophon LA Phil recordings of Mahler's Symphony No. 8, the complete Charles Ives symphonies and Andrew Norman's Sustain (both the Ives and Norman won the Grammy Award® for Best Orchestral Performance)" according to gustavodudamel.com. 
His work has brought him around the world, and yet, being from Venezuela, his heart always brings him back to his native country.
His job with El Sistema, previously known as "Fundación de Orquestas Juveniles e Infantiles de Venezuela" (Youths and Childrens Orchestra's Foundation), founded by Maestro Antonio Arujo in 1975, is one of his greatest legacies in Venezuela but has also influenced the music education around the world. Many countries have been adopting El Sistema to teach music to children. Gustavo Dudamel And El Sistema, El Sistema Venezuela.
This legacy is what Ted Braun had in mind when he decided to make a documentary about the work of Dudamel with the youth orchestras. He did not expect politics to get in the way. But politics did intrude..
"The thought of focusing my attention on an artist whose drive is to bring beauty to the world seemed like a welcomed change of pace," Braun explained. "Also, having lived in Los Angeles, I was aware of Gustavo, and aware of his genius, and his status and his brilliance as a conductor. He is really the most charismatic, dynamic and important conductor of his generation, a kind of Leonard Bernstein's type figure." Leonard Bernstein.
Braun met Dudamel in October 2016. They experienced an immediate connection through music. At their second meeting, Dudamel proposed to Braun that going to Caracas with him in February 2017 might be the best way to start the film. The Orquesta Juvenil Simón Bolívar de Venezuela was starting to rehearse Beethoven's "Ninth Symphony" for a tour in Europe.  Braun thought, "it would be a fantastic place to start the film."
Braun was aware of the political situation in Venezuela by the time they proposed to start the documentary, and they were thinking about what place that would have on the film. 
"My own interests," Braun said, "were in art and the work of making art." He explains that his last two films had taken much of his energy exposing problems of the world, and he wanted a break from that. "I had thought that the film would use the circumstances of life in Venezuela as a kind of backdrop, as a context to understand the significance and the work that Gustavo was doing with the Simón Bolívar Orchestra, but I did not anticipate that it would play a central, dramatic role in the film."
I do not want to go too deep into the script because this is a documentary that should be watched. I wish I could watch it with non-Venezuelan eyes, though, and see how I experience it that way. From the Venezuelan perspective, it gives you a well-known bitter-sweet feeling. It is a beautiful film, made with the best of intentions, but Ted Braun was not even expecting that things were going to go the way they did while he was working on it.
This film demonstrates once more that, no matter how important you are, and how much good you are doing, the situation in Venezuela is bigger than what the rest of the world has wanted to see.
"Viva Maestro" is a documentary about Gustavo Dudamel's legacy, but it is also a legacy of politics gone rogue – it is the tale of a student that could not be at his mentor's funeral because politics got in the way. It is about what people think about a celebrity and how this would influence a crucial moment of his life. It is the story of many Venezuelans, rich or poor, famous, or not, that left their country once with the hope of going back, and that, like many others, do not know if that is going to be possible, ever.
This is not another story about what is going on in Venezuela, but more a story of lack of country, of nostalgia, of uncertainty, the way it has been for almost 25  years.
¡Viva Maestro! | Official Trailer
"Viva Maestro" can be watched at Coolidge Corner Theater in Harvard, and The Majestic Seven, Arsenal Yard, in Watertown, Mass.