Sauce Me: Five Exotic Hot Sauces To Fire Your Taste Buds Up!
Across countries and continents, distinctive peppers and cultures intertwine, giving birth to a mesmerizing array of delicious hot sauces. Today, we invite you to join us on an extraordinary culinary adventure, where each bottle holds a firework waiting to explode on the tip of your tongue.
Sriracha
Originating from Thailand, Sriracha sauce takes center stage with its vibrant Jalapeño peppers, infused with distilled vinegar, garlic, and a touch of sugar. The result is a refreshing blend that invigorates the palate, exuding hints of freshness and subtle sweetness. Its ability to enhance lighter fare and cut through heavy flavors makes it a versatile companion to a variety of dishes. Pairing harmoniously with seafood, rice noodles, and fried delicacies, its gentle spiciness elevates the natural essence of the ingredients, bringing forth a symphony of flavors.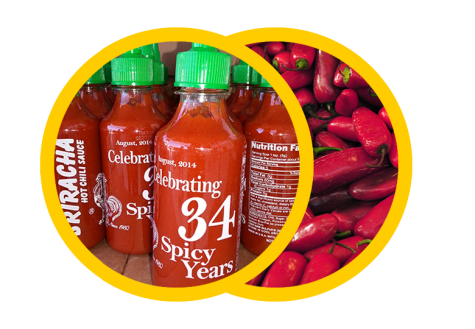 Lao Gan Ma
Lao Gan Ma, which means "old godmother," is renowned as a special sauce in China. Anchored by Guizhou pepper, this fiery concoction incorporates the zesty flair of Sichuan Pepper, the crunch of peanuts, fragrant rapeseed oil, and piquant garlic. The oil generously preserves the aromatic essence of chili peppers, tantalizing the senses with each bite. The addition of peanuts and deep-fried chili adds a delightful crispiness to this spicy elixir. Whether enjoyed with rice or noodles, its flavor is truly enchanting.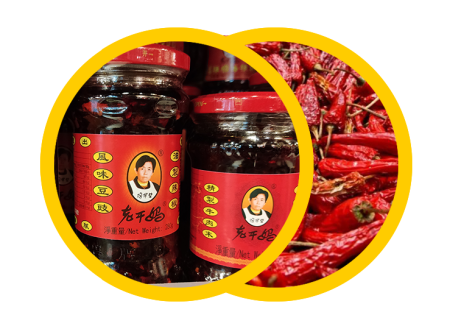 Gochujang
In South Korea, Gochujang unveils a distinctive flavor profile crafted from gochugaru (Korean red chili peppers), glutinous rice flour, soybean, and a meticulous fermentation process. Its signature spiciness possesses a unique depth, owing to its careful maturation. The rich and velvety consistency of this hot sauce lends itself well to marinating meats and vegetables, while also holding a prominent role in iconic dishes like bibimbap and fried rice cakes. The vibrant red hue tantalizes the appetite, while the intriguing fermented notes add an irresistible allure.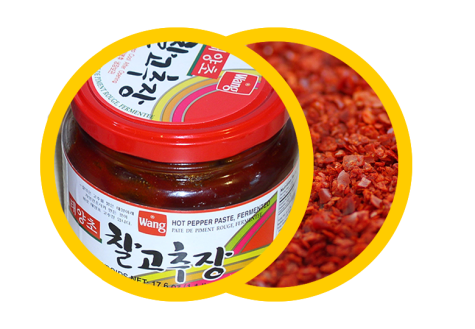 Muhammara
Hailing from Syria, Muhammara showcases the robust Aleppo pepper as its cornerstone, perfectly complemented by ground walnuts, breadcrumbs, and luscious olive oil. This exquisite sauce finds its place as a dipping companion, striking a delicate balance between pungent garlic and a harmonious blend of spices. When paired with staple foods, it reveals an aromatic richness and intricate layers of flavor, creating a genuinely captivating taste experience.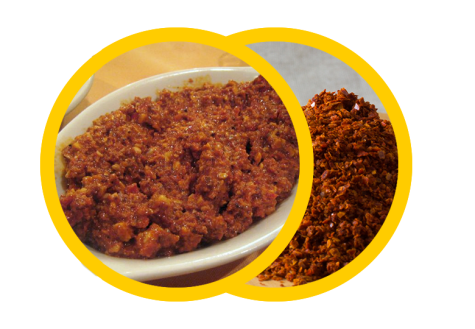 Ají
Ají, a staple in Latin American cuisine, derives its essence from ají peppers, joined by an array of ingredients such as oil, tomatoes, cilantro, garlic, and onions. This hot sauce boasts a complex composition that varies across different recipes, offering a diverse culinary adventure. It often serves as a complementary element to elevate the flavors of other dishes, adding vibrant color and a heightened sensory experience for diners.