The US reopens borders to fully vaccinated, impacts for Boston
President Biden reopened U.S. borders to fully vaccinated international travelers on Nov. 8, bringing an end to the months of restrictions that grounded tourists, disrupted businesses, and separated families.
Under new rules, international travelers are allowed to enter the United States if they can show proof of a vaccination approved or authorized by the FDA and a negative coronavirus test taken within three days before departure.
According to the U.S. Travel Association, an industry group, the extended ban on travel from 33 countries resulted in losses of nearly $300 billion in tourist spending and more than 1 million American jobs throughout the pandemic.
As an international city, Boston has seen its fair share of the economic damage and travel industry impacts caused by restrictions.
Jacky Keith, president of Esplanade Travel, which is a travel agency in the Back Bay neighborhood, testified to the decimation of the industry by the pandemic. For Keith, the relaxing of restrictions couldn't have come soon enough.
"Our business was devastated. We are down 90% from pre-pandemic levels and only have a handful of new bookings. One of our major problems is the airlines. They sometimes cancel the day of travel, don't stick to schedules and have made our life a real nightmare," Keith said.
Using Boston Logan Airport's flight statistics, the following data visualization highlights the reduced number of total flights and passengers in and out of the airport across the last few years in the typically busiest air travel months of July and August. This data shows both the disruption of the air travel industry by the COVID-19 pandemic and the slow recovery emerging from relaxed restrictions and now reopened borders.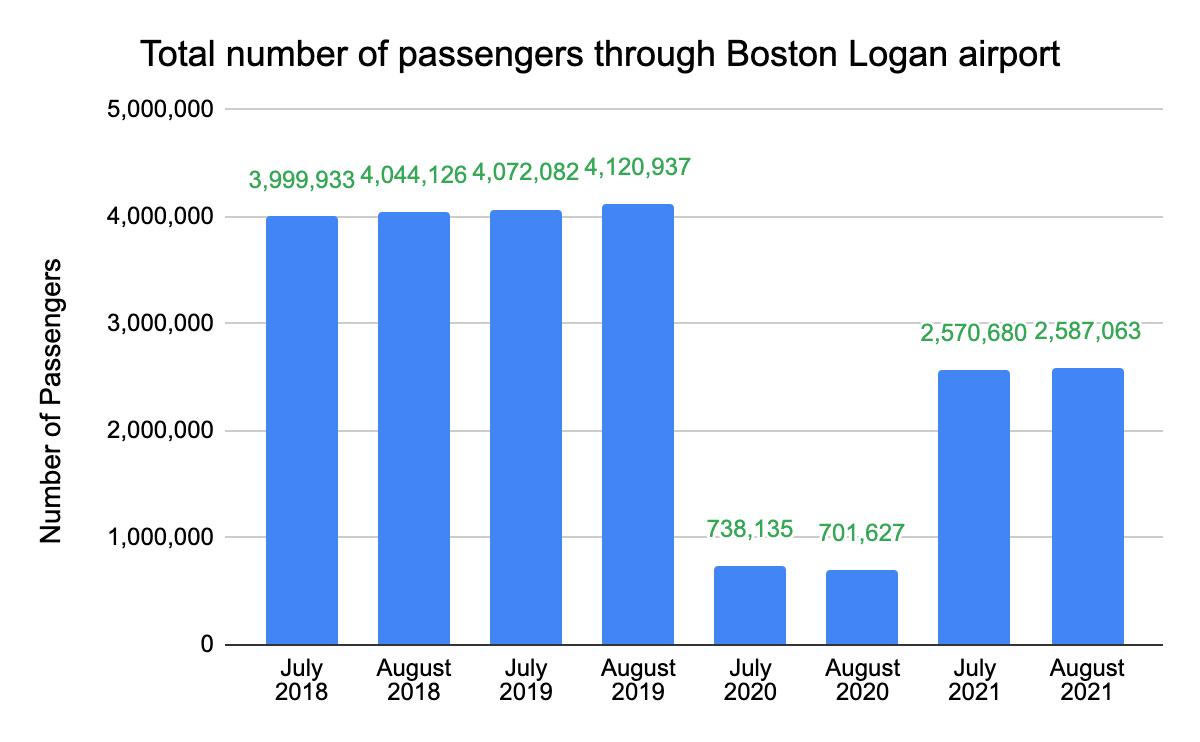 There are hopes Boston will benefit from this forecasted uptick in travel. For example, United Airlines sold more tickets for trans-Atlantic flights days after the reopening announcement a fortnight ago than during a similar period in 2019. The Hyatt hotel group also reported that close to 50% of its recent bookings had been made by international travelers planning to visit the U.S.
Keith is not so confident, however. "I have been in the business for more than 50 years and have never seen anything like this, totally bringing international travel to a virtual halt. When the pandemic started, we never thought we would be in the same position two years later. I don't mean to be pessimistic, but I think it will be a long time before we can comfortably travel abroad without having to handle the pandemic which will be sticking around," she said.
Joseph Paulaskas, assistant general manager of Boston's Eliot Hotel, agreed that it's too early to raise expectations. "We had hoped the opening would occur sooner but were happy that it finally happened. While it is still too early for us to realize an immediate impact, the opening of international travel has seen a huge spike in international airline bookings, and we anticipate seeing increased bookings shortly," he said.
Only 15% of The Eliot Hotel's annual visitors are from abroad but it was "severely impacted by the disruptions of the Covid-19 pandemic," Paulaskas said.
"We are, of course, pleased that international guests are now able to travel and come back to Boston. The economic impact is important. But there are ever-changing circumstances during the pandemic, including new variants and various restrictions other governments are currently imposing. So, for now, we are taking a wait and see attitude, hoping that travel will remain restriction-free," he added.
While borders are reopening, restrictions remain tricky, which, on top of health and safety concerns associated with a lingering pandemic and new variants, is putting some off travelling and will continue to blight the industry.
Despite the U.S. ending its ban on international travelers from more than 33 countries, many nations are far from fully vaccinated. Furthermore, some travelers have only received  Russia's Sputnik V or the China-produced CanSino jab, neither of which have been approved by the FDA. In addition, there is reportedly a six-month visitor visa appointment backlog at many U.S. consulates and embassies that have yet to resume normal operations.
Keith explained the impacts of the current logistical difficulties on her business. "We are still dependent on countries around the world to open to U.S. citizens. They may require viral tests or vaccine certificates for entry, and rules and regulations keep changing. If your South African visa has expired, for example, the U.S. Consulate has estimated it will be next spring before they will be issuing visas," she said.
Kiira Amaechi is a third-year international affairs and environmental studies major and an international student at Northeastern University who has been integrally involved with travel and visa processes before and during the COVID-19 pandemic throughout her time at university.
"I'm what you could call a 'third culture kid.' I grew up in Ghana for 15 years before moving to Finland for three and London for two. So, when I travel 'home' on holidays, I usually go to either Finland, the U.K. or Ghana," she said.
The COVID-19 pandemic has had a "severe" impact on international students' travel to and from Boston and the ease of access to the city and the U.S. more broadly.
"International students need to travel with dozens of documents at a time, all of which must be arranged at your respective embassy and kept up to date. Finding appointments at consulates and embassies has been difficult during the pandemic and for many, a 30-minute appointment determines whether you get to go home in the next two years and whether you'll be able to re-enter the U.S. after leaving," Amaechi said.
International students make up a large proportion of international travel to and spending in Boston and Massachusetts more broadly. Reports that international college student enrollment is up will undoubtedly have buoyed any economic recovery forecast in the region for the coming years.
Northeastern University, which attracts the second largest number of international students nationwide, had over 16,000 international students enrolled last year, despite the nationwide COVID-19 pandemic related drop of 15% fewer international students coming to the U.S. during the 2020-2021 academic year than the year prior.
Despite the number of international students at Northeastern and the university's long-standing commitment to being a global institution, Amaechi explained that the assistance provided by Northeastern's Office of Global Services to international students is not always what it should be.
"Northeastern has reasonable support for international students, but it was definitely isolating during the initial stage of chaos in March when many of us were left to fend for ourselves. I've received one email about basic travel recommendations since Nov. 8, but it was pretty vague. They do not hold students by the hand when it comes to documentation. If you make a mistake or forget a document, you may very well get stuck at a border or even deported. I have friends from Norway, Sweden, France and Japan who had to be flown out by their relative embassies because dorms shut down and there was no way to quarantine in the U.S. without housing or family," Amaechi described.
Amid the emergence of the new omicron variant of the virus and as COVID-19 cases reached a nine-month high in Massachusetts, there are concerns about a possible surge generated by holiday travel and the reopening of international borders. In addition, the potential importing of the virus and the increased cases, hospitalization and deaths threaten the economic benefits.
Consul General Peter Abbott of the British Consul in Boston also described the vast benefits international visitors bring to Boston and the impacts the COVID-19 pandemic has had on the travel and tourism industries.
"New England is a popular destination for U.K. travelers, from business to tourism, university study to research partnership. The reopening of the travel corridor between our two regions is fantastic news, very welcomed and something we have been looking forward to for some time now. To have the ability to come back to this great American city will be a huge boost," Abbott said.
Yet tension remains between relaxation and restriction, and the future looks less than certain as the impacts of COVID-19 pandemic are set to linger in the international travel industry, the city of Boston and beyond.
"As one of the global leaders in education, biopharma, tech and cybersecurity, among other sectors, restoring Boston's ability to welcome international visitors is critical to helping restore the region's economy," Abbott said.