Northeastern Women's Hockey Star Chloé Aurard Skates from France to the World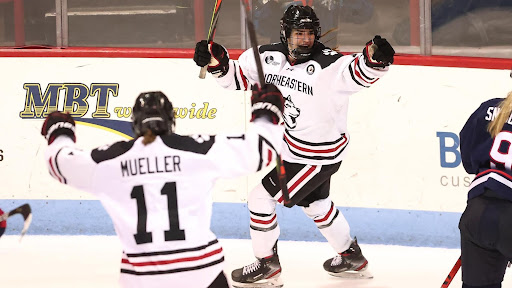 Northeastern women's French hockey star Chloé Aurard is fresh off two amazing goals last weekend against Vermont.
Like many other athletes, Aurard started to learn her craft when she was young. At just 3 years old, Aurard was given a hockey stick. She grabbed it and loved it straight away. 
Aurard revealed, "I have a twin sister and a big brother. They both play hockey and both my parents also played hockey when I was younger. So it kind of became a family thing and a family history that we all played hockey and I continued to play hockey just because it became a passion and I just kind of built my life around hockey."
Growing up in a small town in France, Aurard dreamt of playing at the highest level, so coming to play college varsity hockey in the U.S was an easy choice. But her sleepy hometown in France is certainly different from Boston.
Aurard said, "I'm used to living in my small hometown instead of a big city. So coming to Boston was definitely an adjustment for me. But I love having everything around me. There's outdoor life, there is nightlife in Boston, I love the food in Boston. I love everything in Boston. So I think that was a really big point in the decision for me."
As a student athlete, Aurard has to balance her schedule of study, practice and matches. Aurard has had to get used to the time management that comes with these various commitments.
Back in France,  she spent more time on school work, preventing her from practicing as much as she would have liked. But here at Northeastern, Aurard has a more flexible schedule for both school work and training.
Aurard described, "So when I was younger, I used to have to go to school and play hockey around that, and it was really hard for me because we used to have school from eight in the morning to five at night and then I had practice with my hockey team, so I was kind of all packed up."
But she admitted that being a student athlete "can be really tough sometimes."Aurard said, "Hockey is a lot of my day. Most of the time if I have classes in the morning, I have practice at night and then do homework later."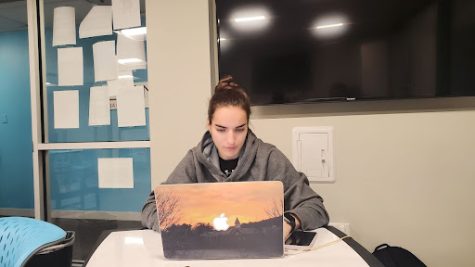 Aurard not only plays as a Husky but for the French national team as well, representing her home country on the international stage. During the 2022 IIHF Women's World Championship Division I, Aurard scored the most goals in the tournament and helped France lift the championship title.
Aurard explained, "I go home a few times a year to play for the French national team, which is always fun and representing my country is also an honor for me." She said that the speed and the different styles of play are the most noticeable differences between playing for France and for the Huskies in the NCAA. 
Aurard has already won multiple Championship titles with Northeastern women's hockey and there are surely more to come. Describing the most unforgettable moment of her Husky career, Aurard named beating Minnesota-Duluth University in overtime to go to a championship game was right up there.
Northeastern women hockey's star will next be donning the Husky jersey on Jan 8, 2023 against BU at Matthews Arena.