A food recipe to relieve homesickness abroad
"Leaving home and coming to a new city is not an easy task."
People told me this before going abroad but I couldn't agree enough until now. For a girl coming from Guayaquil, Ecuador like me, this task meant searching for a nice apartment, buying winter essential and replicating the smell and taste from home in my new kitchen.
Above all, leaving home requires lots of emotional effort and courage. 
It's a bittersweet feeling: living the dream of studying abroad but missing home and all of its cozy ingredients. 
"You have to be strong," I repeated myself in the mirror, while crying my heart out. I felt sort of ridiculous, but after a pinch of patience, it is beginning to feel a lot better.
My happy place, the kitchen, has been helping me with the latter issue. I've always said that I enjoy cooking, but now I can confirm it. Gettings my hand messy, singing while preparing a salad, getting a taste of what's in the pan before serving while being surrounded by others doing the same things.  
I live at Bayridge Residence, an all-girls residence in Commonwealth Avenue. I have roommates from different countries of the world: Ireland, Korea, China, Perú, Spain, Nigeria, South Africa, México, Germany, The Netherlands…and I can go on because we are 55 residents. 
Most of us enjoy cooking together, which creates a synesthetic effect in the kitchen. While I season the chicken Ecuadorian style, someone else is throwing Korean spices in a sizzling pan of beef and cabbage while a blender in the corner is efficiently grinding and blending what would then become a delightful Nigerian banana smoothie. 
Everyone is happy. Cooking makes us happy. Food makes us happy. It unites us, it creates community. Food makes us feel less homesick. 
I talked to international students coming from different countries to the Boston area and learn their tricks on how to feel less homesick with food.  Now, I'm here to share the recipe with you!
Grab a bowl and start mixing!
Pour a cup of creativity
There are lots of ways to be creative while eating. One tip is to add simple ingredients to dishes served at the dining hall and make them similar to home. For example, I normally eat scrambled eggs with a vegetable, let's say grape tomatoes, cheese of any kind and a pinch of basil. Just like that, I leveled up my breakfast. 
How do you usually eat your eggs back home? With a dab of hot sauce? Give it a try!
If there is an ingredient that you think might not be available in U.S. grocery stores, pack it in your suitcase (unless they are fresh plants or contain meat – then don't, because you won't be able to go through U.S. customs). For me, I took some plantain tortillas and immediately put them in the freezer when I arrived.  Whenever I feel homesick, I just put one in the pan and serve it with a fried egg, just like home.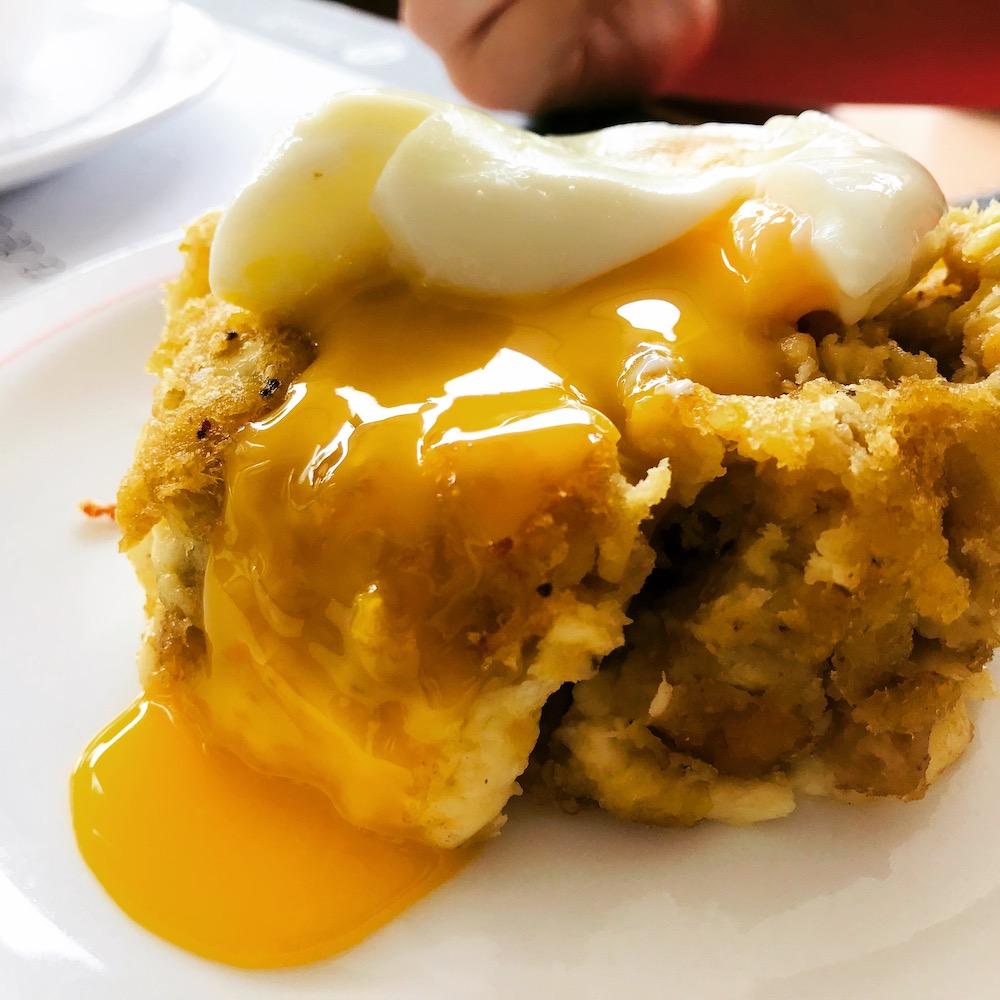 Find a spice alternative 
Jiin Park, a 26-year-old graduate student at Simmons University from South Korea, likes to spices her dishes with Serrano pepper.  "It's not Korean pepper. But it has the most similar taste with Korean pepper in the States," Park said. She does this to make noodles, soups and stir-fried vegetables. "Koreans like spicy food," she added. 
Add a tablespoon of adventure
As an alternative to cooking, Isabella de la Llave, 22-year-old junior at Emerson College, arrived in Boston two years ago with the mission of finding restaurants that could taste like Lima, Perú, her home city. Boston has lots of attractive restaurants and not all of them are American-style so you can most definitely find one that is close to the food from home.
In fact, Llave herself did discover  some great Peruvian restaurants in Boston, like Rincon Limeño or Celeste. However  she prefers to explore Nikkei cuisine which isPeruvian cuisine with Japanese influence. That's why her current favorite place is Love Art Sushi, which serves comfort and fresh food like poké bowls and sushi rolls.
"When I found it, I went twice a week," De La Llave said. 
Fold some recipes into your luggage
Studying abroad is the perfect occasion to pretend you're the chef (or actually become one). This tip is easy and doable: ask a family member to share some traditional recipes for dishes they most often make. You can ask them to write down on a piece of paper or ask send it to you through email. If further assistance is needed while the actual cooking happens, make a WhatsApp or FaceTime call for instructions. 
Recipes don't have to be complicated. They can be a great soup, a grilled cheese sandwich or homemade guacamole, anything you have every day or week. You won't realize this until you have already left, but that homemade guacamole that you take for granted can be a source of immense comfort and gratitude in the face of having to eat store-bought guacamole every day. Besides, you will find that spending time in the kitchen to be one of the most relaxing time you will have in the semester when you are buried in class assignments and group meetings. 
Munch on a comfort snack
Snacks might come lower in your list of food priorities while abroad but don't underestimate its powers. My must-have snacks from home are plantain chips. I always have them alongside pop-corn while watching a movie. It has become a Sunday routine that helps me relax more. Take some snacks in your luggage. It could be a bunch or just some of them. 
Lauryn Clarke, a 19-year-old journalism student at Suffolk University, came all the way from Nassau, The Bahamas to find there are no supply of popular Bahamian snacks in Boston.  
Her solution? When she came to visit home, she returned to Boston with bags of plantain chips, coconut water, grits (a breakfast dish made from ground, dried corn ), goat pepper, frozen conch fritter batter and more. "Eating them makes me feel calm," Clarke said, "they are regular things I would eat at home." 
Throw in a pinch of dinner parties
Ángela Alarcón, 23-year-old from Seville, Spain said the best way to feel less homesick for her is to organize dinner parties with people from home country and cook together. She said she once joined a group of Spanish friends to make a night of tapas, small traditional appetizer or snack in Spanish cuisine. People even took jamón serrano brought all the way from Spain (remember: bring those snacks from home!), cheese and wine. Of course, flamenco was included. "Tapitas night is a Friday tradition," Alarcón said. 
How does food help relieve homesickness, from an expert perspective? 
Food scientist and writer and part-time lecturer at Boston University's gastronomy department Valerie Ryan discusses the powerful and evocative effect that food has on our mental well-being. 
Ryan said they're a lot of reasons to explain this phenomenon, but from a scientific point of view, it has to do with the connection that food has with our emotional memory and childhood experience. 
"One part of our multisensory experience is aroma, and that is strongly connected to emotion and memory," Ryan said, "aroma is particularly evocative because of the instant connection it has to the brain," she added.
Food indeed involves a multisensory experience associations of smells to memories.. When a familiar aroma appears, Ryan explained,  our brains immediately associate it with a previous experience that occurred at our home. This works along with other senses, like taste, which is related to flavors and the physical sensation of food and drink which also evokes emotions. 
Ryan emphasized the  role that food plays in manifesting and maintaining cultures. That,combined with brain signals gives food its power to be associated with emotion and memory. 
Ryan haven't found anything like her home-made chili in New Mexico, which she describes as really unique. "If I ever taste that chili from home, I'll be able to transport home," she said. 
What tip does Ryan have to share with us? Whenever she feels homesick, Ryan orders some New México chili and makes enchiladas at home. 
The last thing to take away from this article is: treat yourself well and serve your food nicely. Use a nice tablecloth, have your meal with your favorite beverage or put some music on. And don't forget you are your best companion while living abroad. 
Be brave, get into the kitchen, serve up some dishes and enjoy every second in Boston.