My first chicken tikka masala, ever
I want to begin this piece with a confession: whenever someone asked me if I had tried Indian food, I was ashamed of answering with a big no. When one of my classmates found out about it, he instantly suggested we should have  Indian food for his upcoming birthday. 
Now, I can't wait  to tell the whole world that I FINALLY tried Indian food … and spoiler alert, it was amazing! 
And If you are wondering, yes I did have the signature Indian dish everyone raves about: the one and only – chicken tikka masala. 
Not only did I have a taste of one of the most flavorful cuisines in the world, I was joined by two friends from India  who are my classmates. Along with them, I experienced the Indian culture right from the table. It was a party of spices, flavors and textures, ultimately one of the best experiences I had while studying abroad. It's a story worth sharing
At the beginning, I didn't know what to expect. One of my classmates, the birthday boy, told me my stomach was going to "suffer the consequences" afterward due to the food spiciness. But my food blogger heart told me to be brave and just go for it. 
We went to a restaurant close to Northeastern's campus, on Huntington Avenue, called Mumbai Spice. I have walked past the place a lot and I've always seen it full with diners, which I thought was a good sign.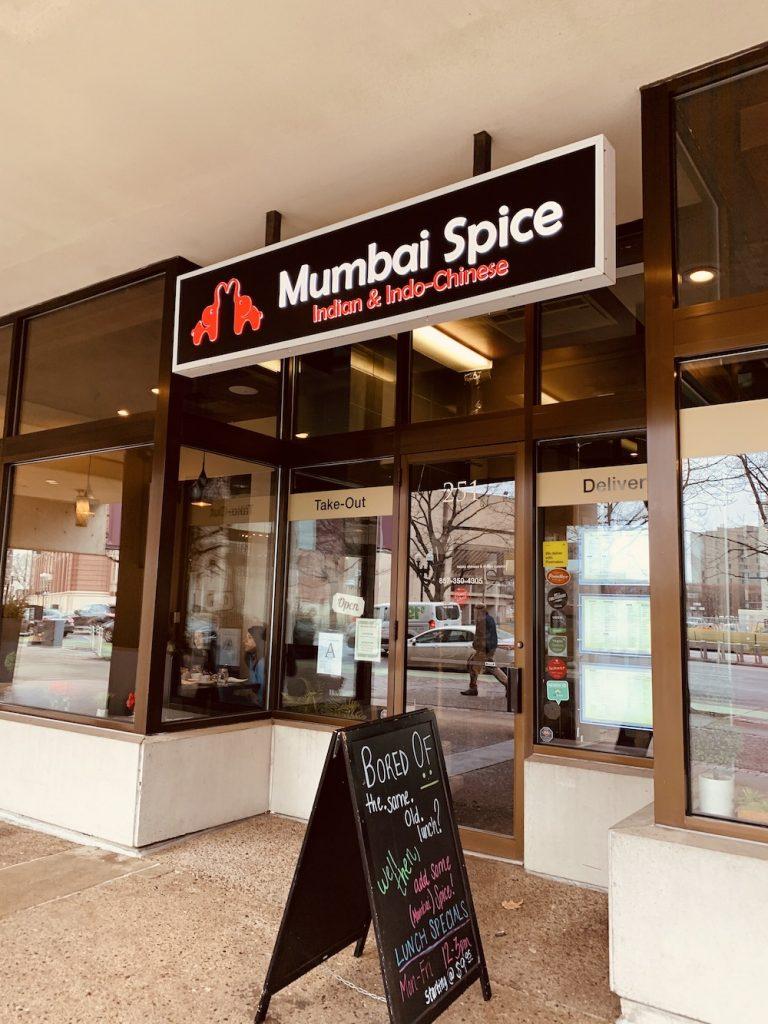 The day we agreed on having lunch, I showed up earlier. Out of curiosity, I grabbed the menu and started going through it. Honestly, I didn't understand a thing even though every plate was explained in English under its name. I googled some plates to get  an idea of what they would look like. I also looked up the place on Instagram and asked some friends who have eaten there before for recommendations. I picked a plate that looked great and kept my finger on the page so I don't lose it. 
When my classmates arrived they told me to forget everything that I just read. 
"We are going to order some things and you are just going to try everything," they told me. I followed their order and ignored completely my arduous research. 
I still kept the menu in my hand because I wanted to take some pictures– but they didn't even check it. They began throwing names and the waitress kept writing them. After our heartwarming (what do you think about passionate/lively/exuberant?) conversation of 20 minutes-ish, the best part happened: the plates parade. A plate of veggie samosas started the show. 
Samosas are small fried pastries filled with a mix of veggies. Some are filled with chopped onion, carrots, even chickpeas or potatoes. The ones I tried were crunchy and with a juicy filling.  I thought it didn't need extra sauce and it was mildly spicy, perfect taste to prepare your palate for the main courses. 
The next plate that arrived at the table was chicken Tandoori. Just by seeing "him," I knew the taste was going to be spectacular as the smell was already ruling the atmosphere. The dish  had a reddish color, all from seasoning and consists of chicken thighs marinated in yogurt, garam masala (a classic blend from spices) and fresh cilantro. Finally , it's grilled on an Indian clay oven called tandoor. 
The chicken came in pieces and served over cabbage and parsley. Next to it, there was a slice of lemon for a touch of acid. I tried the chicken with and without a lemon squeeze, and I liked them both. By then, I was following the recommendation of my lunchmates to have a glass of water next to my plate if I couldn't handle the spiciness. But, I was ok. Every piece of chicken was a mix between  spicy and sweet flavor that may have come from cardamom or nutmeg. No flavor was stronger than the other, they were all working perfectly with each other. 
The birthday boy asked for a traditional drink  called lassi. It's a smoothie made with mango and yogurt. As it has a lot of sugar, we all  agreed that it went along pretty well with the food. I just sipped a little bit and thought it was very refreshing. I even thoughtit had turmeric because the color was intense. 
But no, the color was all out of the mango fruit.
The birthday boy, Pirzan Turel, and mango lassi. Photo: Maria Aguirre
Then, the star of the table arrived: chicken tikka masala with classic Indian bread called "naan" and a bowl with basmati rice on it. Chicken tikka masala is a creamy and juicy plate, which is the reason why I loved it. It's a plate with boneless chicken covered in creamy tomato sauce. I thought it was another party of spices because its colors, its smell, and the flavor were out of the world. 
To accompany the dish, we asked for garlic naan and onion naan. I liked how the border was a little bit more toasted than the rest of the bread. Personally, I enjoyed the onion naan the most as I'm a huge fan of the red onion pieces that were spread all over the bread. 
My friends taught me how to properly eat chicken tikka masala, and now I'll break down the steps for you:
Serve some chicken with gravy on your plate. Try to grab a piece of parsley that's on top of it.
Split the bread with your hand and use that piece to grab the chicken. 
Take it directly to your mouth. Bite it, taste it, enjoy it. 
Try it with rice. Serve some of it over it and put the chicken on top. Please, don't forget about the gravy. (If you are wondering, I prefer it with bread). 
After taking the proper pictures, we dived into it. 
That moment changed my life. Maybe I'm overacting, but the food  surpassed all my expectations. It was mildly spicy, something great for my first time having Indian. It was nice to hear from my lunchmates that the food tasted really authentic, very close to home. That's when I knew the food really introduced me to a part of India. 
Along with the tikka masala, I also tried paneer, a classic Indian cheese. It came in as square pieces inside a bowl. The paneer was sauteed with masala and sliced green and red peppers. Again, my friends  told me to eat while having my glass of water next to me. They told me the paneer was very chewy and it usually melts in your mouth. I didn't think the texture was bad, in fact, it's a reason to go back to the place again. 
I really wonder why it took me so long to finally try Indian food, but I think life was waiting for me to be in Boston and able to share that table, that moment. This tikka masala was my first, but not my last one.
Life is a food journey, and my stop in India is just beginning. 
A Spanish version of this article is available on Maria Aguirre's personal blog.